Ulster Bank extends Post Office services for customers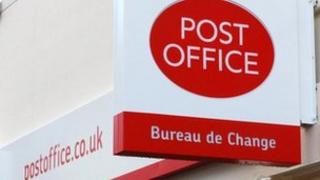 Ulster Bank customers will be able to pay in cash and cheques at NI's Post Office branches later this year.
The bank's customers can already check their balance, withdraw cash and pay bills at the Post Office.
Stephen Cruise of the Ulster Bank said: "We're continually looking for ways to enhance the service that our customers need and to make banking more convenient for them."
There are 482 Post Office branches throughout Northern Ireland.
"Extending our relationship with Ulster Bank will offer people even more options," said Mark Gibson from the Post Office.
The extension of services also applies to RBS and NatWest customers across the UK.