Victims and Survivors Service: Leaders accept recommendations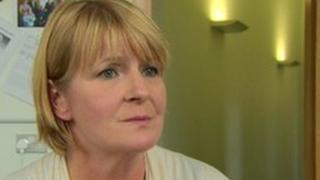 The first and deputy first ministers have agreed to accept more than 50 recommendations aimed at improving the Victims and Survivors Service (VSS).
This follows very public criticism of the service by the Victims' Commissioner Kathryn Stone.
She told a Stormont committee last October that victims were being "made to feel like beggars".
Peter Robinson and Martin McGuinness then asked Ms Stone to seek an independent assessment of the service.
This included an examination of how it operated, and how it dealt with people, groups, and information.
Ms Stone had been particularly critical of how the service assessed victims seeking assistance.
Firmly rejected
Among the concerns was that the service was too focused on processes rather than people.
The service was set up by the Office of First and Deputy First Minister (OFMDFM) in 2012.
While her criticisms were firmly rejected by the Victims and Survivors Service, OFMDFM have followed her advice to publish and implement the findings of consultants WKM Solutions and CIPFA.
Ms Stone welcomed the response of OFMDFM and said this will make a difference to victims seeking assistance.
First Minister Peter Robinson said it was imperative that victims and survivors are provided with services that are responsive and sensitive to their needs.
Mr Robinson said the findings will make a "significant contribution" to the effectiveness of future services.
Deputy First Minister Martin McGuinness pledged OFMDFM would act to address all the issues raised by consultants.
Recommendations
"We are committed to ensuring the needs of vulnerable victims and survivors are met in an appropriate and timely manner."
The ministers took just one week to respond to Ms Stone's request on 14 February that they implement the recommendations.
Ms Stone said all those who who assisted with the assessment will be pleased to hear that their views have been listened to, acknowledged and will be acted upon.
"It is to the credit of all concerned that the independent assessment report, recommendations and advice will be published enabling the public to have confidence that all agencies involved welcome scrutiny and constructive challenge."