Millie Martin: Toddler's killer to appeal guilty verdict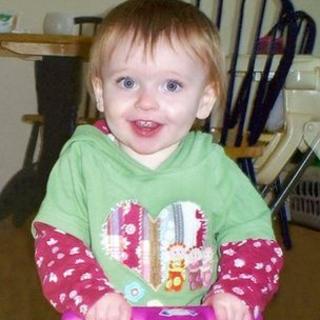 A man jailed for murdering his ex-partner's 15-month-old daughter is set to appeal the guilty verdict.
Barry McCarney's bid to overturn his conviction will be heard in April.
McCarney, 34, is serving a minimum 25-year prison sentence after being unanimously found guilty of the murder of Millie Martin.
The toddler died in December 2009 following her admission to hospital in Enniskillen, County Fermanagh, with serious injuries.
She had sustained multiple fractured ribs, heavy bruising and a burnt finger.
McCarney, formerly of Trillick, County Tyrone, began a relationship with Millie's mother, Rachael, and moved into the family home in Enniskillen months before her death.
Acquitted
In December 2012 a jury reached a verdict that he had murdered the child.
He was also convicted of sexual assault and causing grievous bodily harm to her.
Rachael Martin was acquitted at trial of allowing her daughter's death and cruelty through wilful neglect.
In the Court of Appeal on Friday counsel for McCarney disclosed part of their challenge to his conviction centres on the Domestic Crime and Victims Act 2004.
The lawyer said: "There's a major structural issue about that legislation."
He also detailed efforts to obtain transcripts of evidence given at trial by his client's co-accused.
Listing the case for hearing on April 1, Lord Chief Justice Sir Declan Morgan predicted the issues involved could be dealt with in two days.