Odyssey Arena reviews Hardwell gig lessons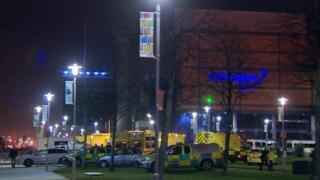 Management at Belfast's Odyssey Arena have agreed a series of measures to avoid a repeat of scenes at a concert likened to a "disaster zone".
More than 100 young people were treated for the effects of alcohol or drugs at Hardwell's concert on 6 February.
Major events should have a medical liaison to work with paramedics inside and outside the arena, a review found.
Communications specialists should be on site at certain events to "rebut wild rumours circulating on social media".
It said at events "where management deem it necessary to manage media relations and social media platforms", resources should be deployed on site to "prevent the situation spinning out of control across various media platforms".
The review by the Odyssey Trust was instigated after the Northern Ireland Ambulance Service declared the scene outside the concert as a "major incident".
'Minimise risk'
Chief Executive Robert Fitzpatrick said "lessons have been learned".
"Whilst I am heartened by the fact that a detailed event plan was in place and was adhered to by arena staff and other agencies involved that night, nevertheless there are measures that can be taken to minimise the risk of a major incident taking place in future," he said.
He added: "We hope that there will be an urgent review of the legislation governing alcohol consumption on buses and that there is an examination of the wider societal problem that exists in Northern Ireland regarding the prevalence of irresponsible alcohol consumption and how to tackle it."
The report also recommended that if there is potential for a major situation to develop, relevant personnel should "quickly meet up".
It said the arena's medical team should accept the ambulance service's offer of major incident training, and its staff should increase its awareness of emergency services protocols for major incidents.
The arena should also examine the booking and arrival of coaches for major events, the review found.