12 deny killing Coleraine community worker Kevin McDaid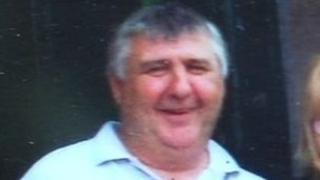 Twelve men have pleaded not guilty to killing Catholic community worker Kevin McDaid in May 2009.
Mr McDaid was attacked by a loyalist gang outside his Somerset Drive home in Coleraine, County Londonderry.
All of the accused appeared in the dock at Belfast Crown Court on Friday for a pre-trial hearing.
A judge criticised the "disgracefully long" time the case has taken to come to trial, asking: "Where has this case been?"
In a packed courtroom, several of the defence barristers said they had yet to receive CCTV images and autopsy photographs from the Public Prosecution Service.
Addressing counsel for the Public Prosecution Service the judge said: "I think someone is going to have to get their police bike out and deliver these materials."
He also warned all counsel present the trial would go ahead after Easter.
"This bus is leaving after Easter and you better be on board with your suitcases," he said.
During the hearing it was revealed that 123 witnesses have been agreed in the case and several defence teams will be employing the services of a DNA expert from Ohio.
The 12 men are also charged with the attempted murder of another man.
The defendants are:
Aaron Beech, John Street, Ballymena
David Craig Cochrane, Windyhall Park, Coleraine
David James John Cochrane, Windyhall Park, Coleraine
Frank Daly, Oakland Walk, Coleraine
Rodney Gardner, Knocklynn Grange, Coleraine
Philip Kane, Danes Hill Road, Coleraine
James McAfee, of Cloneen Drive, Ballymoney
Christopher McDowell, Castle Walk Mews, Castlerock
Ivan McDowell, Taggart Mews, Ballymoney
John McGrath, Knock Road, Ballymoney
Paul Newman, Nursery Avenue, Ballymoney
John Thompson, Knocknougher Road, Macosquin, Coleraine
Two other men face lesser charges including threats to kill.