£3m spent on school 'nurture units'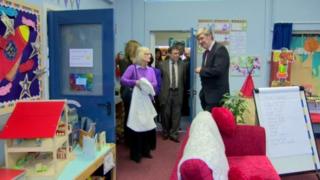 Almost 500 children who are at risk of falling behind in education are to benefit from extra help in new school facilities known as nurture units.
Twenty new units have been launched in primary schools in a joint project by the Department for Social Development and Department of Education.
The units are fitted out with kitchens, sofas, and some have "quiet rooms".
The pupils will be given extra attention in a bid to improve their social skills and school performance.
The project was started by the Department for Social Development, which initially funded 10 nurture units under a neighbourhood renewal scheme.
In a statement, the department said the units were "a valuable resource which aim to support the social, emotional and behavioural development of our young children and provide an opportunity to challenge some of the barriers that contribute to low educational attainment".
The official launch of a further 20 units was marked by both the social development minister and the education minister on Thursday.
Eleven of the new units are in Belfast primary schools.
The investment is costing £3m.
The units provide a comfortable setting where the children can chat, learn to mix with others and express themselves. Some have aromatherapy and soft lighting.
Social Development Minister Nelson McCausland said: "Investing in our children from an early stage in their young lives is paramount if, we, as a community, are to provide the necessary support and environment to enable them to thrive and develop.
"I have visited a number of piloted nurture units in the past so, to announce £3m of funding today giving financial support to a further 20 units is testament to the hard work and dedication of the teachers and staff who have worked tirelessly and made these nurture units a success.
"I have seen at first hand how the personal time spent with our most vulnerable and young children in these units can not only have an impact on the social development of some of the children but can also have beneficial impact on their parents."
Education Minister John O'Dowd said: "All our schools have a responsibility for the emotional health and wellbeing of our children - to help build self-esteem and confidence in their own abilities, and to build levels of resilience that will help them cope with situations they may find difficult, not just in school but in later life.
"Nurture units can play a key role in tackling under-achievement early in a child's life by providing targeted support to where it is most needed.
"The units will bridge the gap between home and school and will play a key role in my longer term aim of closing the gap in educational attainment evident in our system," Mr O'Dowd added.