Dublin bugging scandal: Hi-tech surveillance and intrigue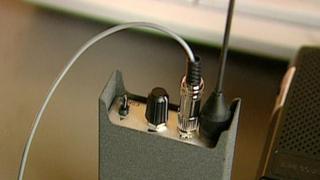 Two weeks ago, the Sunday Times in Ireland broke a story claiming that the offices of the scrutiny body that monitors the Irish police force had been bugged. It has remained the main story in Ireland ever since.
The fact that the Garda Siochána Ombudsman Commission (GSOC) failed to tell the police or the country's justice minister, gave the story an air of espionage and intrigue unrivalled in the state.
The minister, Alan Shatter, commissioned a review into the claims, and concluded that there is no definitive evidence they were under surveillance at all.
He has, however, agreed to an independent inquiry chaired by a retired judge.
The chief of police, Commissioner Martin Callinan, strenuously denied any police involvement in the alleged surveillance. However, he also said that if anyone had evidence to the contrary, he would be very keen to hear from them.
There are some elements of the story which appear undeniable.
A UK 3G telephone signal was detected in Dublin. An official wireless device was bouncing to an alternative wireless network, and there was an anomaly on a phone line in the office.
Suppressed
Each, taken alone, do not amount to cause for great alarm. The three together, however, were sufficient to persuade the ombudsman commissioners that something was amiss.
Sources close to this increasingly complex Dublin scandal are persuaded that there was a surveillance operation. Even government insiders are speculating privately about who may have been behind it, despite the justice minister publicly questioning whether it existed at all.
One way or another, the review into the alleged surveillance of the offices of GSOC will be telling. Either it will interrogate the first-hand evidence from those who gathered it, or it will not.
That will tell us a great deal. This evidence has thus far been suppressed.
The exact reasons behind the GSOC's invitation to a UK-based surveillance specialist to sweep its offices are unclear. Suffice to say that there was some suspicion of external eavesdropping.
Not a great deal is known about the British security company, Verrimus, that found three anomalies in the communication systems at the offices in Dublin.
It has refused to be drawn on the matter save for two carefully considered media statements, and it says that it has been "reminded of its obligations" under the Garda Siochâna Act that places limits upon those engaged by the ombudsman from talking about their work.
Such companies are less likely than most to speak about their activities in any case, and the act merely serves to protect its silence.
However, Verrimus is a credible counter-surveillance operator, and was sub-contracted to work for the British government in the security operation prior to the London Olympics.
Credible organisation
It has done work for the British government and law enforcement agencies, but contrary to some reports, it is not made up of former MI5, MI6 or security service personnel.
Rather it draws on military expertise, including former members of the UK special forces.
Some statements from the Irish establishment have clearly questioned, if not tried to discredit, the findings of the company.
The Irish government engaged a "peer company" to review the findings of Verrimus, and while it is an equally credible organisation, some have questioned whether its expertise or that of Verrimus are directly comparable.
Such technical companies survive or founder by reputation; they do not advertise their services in mail-shots. It would be curious for an established specialist company based outside Ireland to go out on a limb and claim that a surveillance operation existed, where in fact it did not.
It would have been clear to Verrimus that any discovery of spying would cause a political furore, and that its credibility would be challenged. To get it wrong would be commercially crippling.
Furthermore, it does not appear that Verrimus has made any suggestion with regard to who might have been behind such surveillance, or indeed whether GSOC was the actual target.
The media has, understandably, assumed that most people will think that some element within the Irish police force is the obvious candidate. The Gardai is, after all, the organisation the ombudsman exists to scrutinise.
Real picture
It is true that there is little love lost between the Gardai and the oversight body, and the Irish government is to consider further whistleblowing legislation to assist in rogue police behaviour being exposed.
The fact that GSOC did not report the findings of the surveillance sweep to Mr Callinan has prompted many to assume that the ombudsman commissioners believed the police may have been involved.
However, suspicions are even more difficult to prove than hi-tech surveillance. What will help form a real picture of what was going on is a face-to-face interrogation with the Verrimus experts who carried out the sweep.
A source in the counter-intelligence industry also believes that such a company would maintain scrupulous "contemporaneous logs", which are apparently fundamental to organisations in this line of work.
Ex-service personnel are also familiar with the process of recording not only their actions when conducting such an investigation, but their findings.
Each test they carried out would have been measured, and recorded. If, for example, there was an attempt to tap into the ombudsman's office systems during the sweep, that would form part of the log.
The level of probity employed by Verrimus should be there for close examination by retired judge John Cooke, who will chair the independent inquiry. He should also be able to challenge the company's technical processes and the veracity of their findings.
Assuming there was a surveillance operation, there are more potential targets and possible perpetrators than those currently being discussed on chat shows and at dinner parties.
One Irish government source has even affirmed his suspicion that there could be a French connection, because of the unsolved murder of film-maker Sophie Toscan du Plantier, who was beaten to death in County Cork in 1996.
In a world of secrets, it is no secret that other governments are interested in matters of security in other states. A police scrutiny body is a place where security indiscretions are discussed, providing possible leverage with regard to compromised officers.
If the bugging was designed to examine the ombudsman commission's offices, then the possible spies are many and varied. If it was designed to monitor someone, or something else, then it was detected by virtue of suspicions within the commission that will eventually need to be addressed.
Judge Cooke's terms of reference allow him to take oral evidence. The operatives at Verrimus may yet have their chance to explain the technicalities of what is rapidly becoming a political scandal.