Mother 'desensitised and disillusioned' by justice system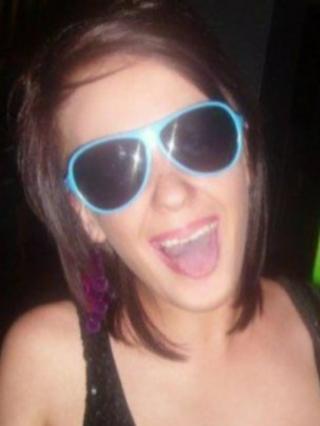 The mother of a young woman killed by a drunken driver says she was left "disillusioned" by her experience of the criminal justice system.
Denise McAuley thinks her family should have been treated with a "lot more sensitivity" by the Public Prosecution Service (PPS) after her 20-year-old daughter, Claire Kelly, was killed in December 2011.
She says during the year it took the case to conclude they got limited information about the progress of the case and that in the magistrates' court it seemed to be a different prosecutor every time.
She feels the system was "depersonalised and desensitised".
It certainly is under significant pressure. In 2013 more than 57,000 cases came to the PPS for a decision on whether to prosecute. In around three-quarter of those cases, the decision was taken to proceed.
The PPS is rolling out a new scheme to provide a liaison officer to families in serious cases.
They would keep them informed of developments all the way from point of charge to the conclusion. It should be available across the whole of Northern Ireland soon.
'Better service'
Stephen Herron is a senior assistant director with the PPS. He has the responsibility for ensuring victims and witnesses have as good an experience as possible.
He says: "I would have to acknowledge that until fairly recently there maybe was a bit of a gap in the service provided to victims and witnesses.
"I certainly think when it gets to the Crown Court there's a lot more focus on the victim, you have counsel involved and you have our own staff who have the time and make a big effort to explain what's happening.
"I think in the past we could have provided a better service to victims and witnesses as cases go through the magistrates' court."
A big part of the problem can be caused by the process of getting a case to trial.
While serious cases are tried in the Crown Court, a lot of the preparatory work to get them ready is done in the magistrates' court.
That could mean the case being listed to ensure things like expert reports or forensic results are being prepared.
It can lead to lots of days in court where the progression of the case is limited and it is often dealt with along with dozens of others.
Improve efficiency
But relatives often want to attend every hearing of a case. The system of preparing it for trial can leave some feeling that they are not kept abreast of what is happening, or that it is not being treated with the sensitivity or seriousness that they would like.
But it is not just the PPS that is trying to improve the efficiency of the criminal justice system. Proposed changes in a new justice bill could also speed things up.
At present solicitors run what is called a preliminary inquiry in the magistrates' court at which they test the evidence to see if it should progress to trial in the Crown Court. Witnesses can be called and cross-examined.
The justice minister, David Ford, is proposing that this step be done away with for serious cases, as it has been in England and Wales.
"There are virtually no cases dismissed at that preliminary inquiry stage and yet it requires court time, it requires perhaps bringing defendants from jail, bringing in witnesses, cross-examination.
"It has proven to be of no great value in England and Wales and I think we need to see about abolishing it in Northern Ireland completely."
Solicitors say the preliminary inquiry is an important first opportunity for them to defend their clients against serious charges.
Mr Ford says the system already contains important checks and balances at the Crown Court stage, and does not believe its abolition will have any impact on a person's right to a fair trial.