ACC Drew Harris: PSNI not opposed to proposed new sex law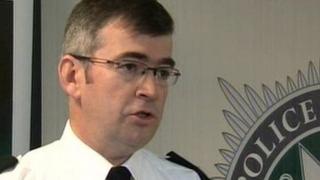 A senior officer has said the police are not opposed to a proposed new law making it illegal to pay for sex.
Police Service of Northern Ireland (PSNI) Assistant Chief Constable Drew Harris made the claim when he appeared before Stormont's justice committee.
The committee has been discussing a proposed law on human trafficking and the sex trade.
Mr Harris's comments signal an apparent change in the PSNI position from an earlier written submission.
In a submission dated 6 November 2013, the PSNI said: "The criminalisation of paying for the sexual services of a person is not supported at this time."
The submission also proposed further research be conducted into the prostitution environment in Northern Ireland, and that this may involve wide-ranging prostitution legislation.
"The support of persons involved in prostitution is also a concern and this legislation does not assist in such support," it added.
Mr Harris told the committee a law making it illegal to pay for sex would send out a strong message to organised crime groups about Northern Ireland's attitude to prostitution.
'Vulnerable to attacks'
But he cautioned that police were mindful of any "unintended consequences" of such a change in the law.
He said the PSNI did not want to deter victims of crime, particularly prostitutes who were vulnerable to attacks, from coming forward to the police.
The Human Trafficking and Exploitation Bill has been proposed by DUP MLA Lord Morrow,
He said that Mr Harris's comments had rendered the central arguments of those opposing the bill as "null and void".
He said: "Assistant Chief Constable Drew Harris outlined the PSNI position and stated that the PSNI is not opposed to Clause 6 of the legislation.
"By stating this clearly and on the record of the Northern Ireland Assembly, ACC Harris has demolished one of the central arguments of those special interests that are opposing legislation.
"The reality is that Clause 6 of the bill is an essential component in tackling the misery inflicted by those who engage in human trafficking, and it should be supported."