MLAs criticise NI Lord Chief Justice Sir Declan Morgan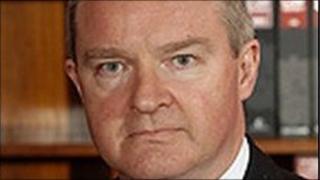 MLAs have criticised Northern Ireland's most senior judge after he suggested the justice committee was acting outside its powers.
The Lord Chief Justice Sir Declan Morgan accused the committee of "unconstitutional conduct" in its inquiries into judicial appointments.
Part of Sir Declan's letter was read to the committee by chairman Paul Givan.
In it, he said he would be prepared to discuss the appointments policy in general.
But he stated that he believed the committee had "no jurisdiction in respect of High Court judge competition".
Sir Declan's letter also said that if the committee continued to "act outside its powers", he could not "lend himself" to "such unconstitutional conduct".
Mr Givan, a DUP MLA, said he was "taken aback" by the correspondence. He claimed it was "an attempt to frustrate the workings of the committee".
Argument
Committee members agreed to refer the matter to Stormont's legal advisers.
Mr Givan said people were "mistaken if they thought the committee would drop the ball on this issue".
It is understood that part of Sir Declan Morgan's argument to the justice committee is that the appointment that is under scrutiny was made in 2009, before Stormont was given justice powers.
Justice was not devolved to the Northern Ireland Assembly until 2010.
Last year, County Court Judge Desmond Marrinan told the committee he had been subject to "biased and unfair treatment" in being denied a promotion to the High Court in 2009.
He called for the Northern Ireland Judicial Appointments Commission (NIJAC) to be reformed.
NIJAC is currently chaired by Sir Declan Morgan.