Irish amateur boxers at Stormont over sectarianism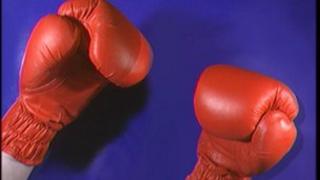 Irish Amateur Boxing Association (IABA) representatives have addressed a Stormont committee on Thursday on tackling sectarianism in the sport.
In 2012, the mainly Protestant Sandy Row club in Belfast claimed it had been subjected to a decade of "chronic sectarianism" in nationalist areas.
A report instigated by the IABA found that the sport in NI had been affected by both sectarianism and racism.
The Stormont meeting was about how the IABA was addressing this.
Ulster Unionist MLA Michael McGimpsey said he was encouraged by the discussion.
"I am pleased that the IABA is taking the issue seriously. It is very much a work in progress but, as a result of this meeting, I am encouraged that things are finally moving in the right direction," he said.
Mr McGimpsey said that members of Stormont's culture, arts and leisure committee had been assured that the IABA was taking the matter seriously and was working towards drawing up an action plan and a timeframe for its implementation.
"The issues which they pledged to address included the chill factor for young Protestant boxers, the under-representation of the Protestant community within the sport, and the ability of young local boxers also to box in a British national team," he said.
"They promised to address the latter issue with the English Amateur Boxing Association and the world governing body in Switzerland."