NI pensioners call for extra funds to end fuel poverty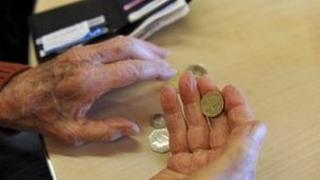 Northern Ireland's pensioners' parliament is calling on the NI Executive to draw down extra Treasury funds to help older people keep warm.
Fuel poverty is one of the main concerns for older people, parliament chairman Michael Monaghan said.
"Since the parliament began in 2011, the top concern of pensioners here has been keeping warm in winter," he said.
"Above any other issue, older people are worried about the price of heating their home."
He added: "Unfortunately, provisional figures from this year's survey are telling a very similar story. This problem is not going away."
Mr Monaghan said their surveys suggest that four in every five pensioners in Northern Ireland were worried about keeping warm.
"That should be a shocking statistic, but it has become the norm," he said.
"During each of the last three years of the pensioners' parliament, the same proportion of older people has continued to be worried about the cost of energy; yet here we are in 2014 and older people's concerns have still not been fully confronted."
The 2014 Northern Ireland pensioners' parliament will be officially launched on Friday.
A number of "local parliaments" will take place in the coming weeks and will be held in Enniskillen, Newry, Craigavon, Larne, Magherafelt and Omagh.