Daniel O'Donnell's wife feeling 'great' after double mastectomy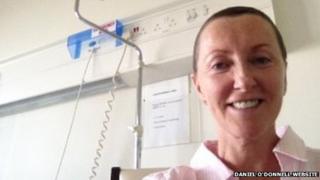 The wife of Irish singer Daniel O'Donnell has revealed she is feeling great after a double mastectomy.
Speaking from her hospital bed, just five days after the operation, Majella O'Donnell said she now needed to rest and heal.
The Donegal singer's wife was diagnosed with breast cancer last July.
Her father, Tom Roche, died last October.
In a message, posted on her husband's official website, Majella spoke of her "very difficult seven months".
"As Daniel has already told you, I had a lumpectomy in July and started chemotherapy in September," she said.
"I am now in hospital on day five after surgery for a double mastectomy with reconstruction.
"I feel great, thank God! It's so good to be this far down the road and to know that all I have to do now is rest and heal."
O'Donnell revealed news of his wife's cancer last July, but said the disease had been found in the early stages and the couple were hopeful of a full recovery.
Majella captured the heart of the public when she appeared on Irish state television in September to have her hair shaved off, raising thousands of pounds for a cancer charity.
In her message this week, she thanked the thousands of well-wishers who, she said, had been a great source of comfort to her.
She said she would "never forget" their kindness.
"What I want to tell you all, at this stage, is how very grateful I am to every one of you for everything you have done for me over the last few months," she said.
"Please do not think that, because you haven't heard from me, your kindness has gone unnoticed.
"All your prayers, good wishes, donations, gifts, Mass cards, and sacred relics have been of great comfort to me.
"I consider myself very lucky to have so many people batting for me. I can honestly say that I'm out the 'other side' and in good health again."
Daniel O'Donnell is one of Ireland's most famous singers.
Married
He grew up in Kincasslagh, in west Donegal, and during his career has made albums of country music, Irish folk, gospel music, and songs from the 1950s and 60s.
He has a loyal fan base, mostly made up of women, and is renowned for his approachable and affable manner.
He married Majella McLennan in a ceremony in his native county in 2002.
In 2012, O'Donnell made UK chart history by becoming the first artist to have an album in the UK charts in each of the previous 25 years.
He has had at least one album enter the UK charts each year since 1988.