Daisy Hill Hospital's fracture service to be relocated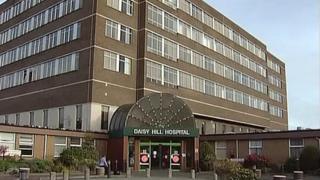 Fracture services at a hospital in Newry, County Down, are to be relocated to Craigavon, County Armagh, as part of a plan to centralise patient care.
Daisy Hill Hospital's fracture service is moving to a purpose-built unit in Craigavon.
Sinn Féin has raised concerns about the decision, saying people in Newry were worried about cuts at their hospital.
But the Southern Health Trust said it was part of a £4m investment aimed at improving orthopaedic and trauma care.
Newry and Armagh MLA Megan Fearon said: "I have been contacted by a local sports club who are seriously concerned that this cut to vital health services at the Daisy Hill represents a dangerous development for local people.
"I have contacted the Southern Trust and been informed that the current arrangement, in which fractures requiring surgery are treated in Belfast with follow-up treatment in Daisy Hill Hospital, is to cease over the coming months, with all services delivered in Craigavon Area Hospital."
'Reduction'
Ms Fearon said she has "received assurances from the trust that jobs will not be lost in Daisy Hill" as a result of the decision.
However, she has questioned whether there was sufficient public consultation about the removal of the Newry service.
She said she has written to the Health Minister Edwin Poots to ask "whether or not the minister plans any further reduction of vital services in our local hospital".
A spokesman for the Southern Trust said the move was the result of a recent award of £4m in extra funding that would enable them to provide an improved, centralised fracture service in Craigavon.
The trust opened a dedicated fracture facility in Craigavon in 2010, which is currently used by most patients from the Southern Trust area, with the exception of patients in the Newry and Mourne area who use a smaller facility in Daisy Hill Hospital.
'Deeply concerning'
In a statement, the trust said it "welcomed a decision by the Health and Social Care Board to provide approximately £4m to further develop trauma and orthopaedic services for patients in the Southern Health and Social Care Trust area.
"The funding means that those patients requiring inpatient trauma and orthopaedic surgery will have their surgery locally in the existing purpose-built facility in Craigavon Area Hospital and Southern Trust patients will no longer have to travel to Belfast for inpatient treatment.
"It is anticipated that all Southern Health Trust Area patients will have a local service in Craigavon Area Hospital from summer 2014."
Ms Fearon said: "The fact that such a move may have been taken without adequate public consultation and engagement with local representatives in the area is deeply concerning. With this in mind I will also be raising this issue with the Patient and Client Council."