Northern Ireland Assembly: MLAs to pay more for their pensions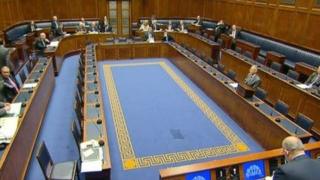 Assembly members are facing changes to their pensions that could save the public purse up to £10m by 2020.
Under new proposals, the 108 MLAs will have to contribute more of their salary towards their pensions.
The changes will also mean the pensions will not be as generous as before.
The Independent Financial Review Panel (IFRP) has recommended that the MLA pension age should be the same as the state pension age, and that death in service benefits are reduced.
It also recommended that MLAs move from a final salary pension scheme to the less financially attractive career average scheme.
Reduced cost
Westminster MPs have already moved to a career average scheme following proposals from the Independent Parliamentary Standards Authority.
The move comes as Stormont, in line with the rest of the UK, plans changes to the pensions of more than 200,000 public sector workers, including civil servants, teachers, and nurses.
IFRP chairman Pat McCartan estimates the changes can save between £7m and £10m per assembly term post-2016 because of a reduced cost of MLAs' pensions.
At present, the cost to the public purse for an MLA's pension is about 31% of an MLA's salary.
Under proposed changes, this cost would be reduced to 24% while the contribution from an MLA would rise.
MLAs in future could have to meet between 40-50% of this cost.
Less attractive
They currently pay between seven and 12%, but in future are likely to pay between eight and 15%.
Mr McCartan said the aim was to create a fair and equitable pension scheme for MLAs.
He urged the public to give their views in the consultation process. "We are very anxious for the public to tell us what they think," he said.
The terms for MLAs elected post-2016 will be less attractive than those enjoyed by older MLAs who have served since 1998.
MLAs currently have a choice between two pension rates but in future all will be on a career average scheme based on less attractive terms.
Trade union leader, Bumper Graham of Nipsa, said the 210,000 public sector workers who have seen their pensions reduced will be watching with interest.
"It was only a couple of weeks ago that the assembly shredded public service workers' pensions, so we will wait and see if they are being consistent in their views and take the changes that are being imposed upon them.
"At the end of the day it's a question of equalisation of misery all around."
One MLA privately acknowledged that there was no choice but to accept the changes.
In March 2012 the IFRP published its first report recommending an 11% pay increase for MLAs, pushing their basic pay from around £43,000 to around £48,000. At the time it undertook to review pensions.
The consultation on MLAs' pensions will run until 8 April after which a summary of responses will be published before the IFRP makes its binding recommendation.