Big Lottery Fund: NI projects share grants of £670,000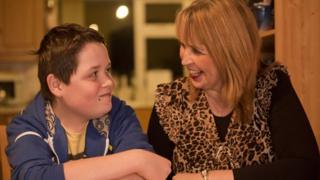 Eighty Northern Ireland projects are to share in grants totalling almost £670,000 from the Big Lottery Fund.
The grants in the Awards for All programme range from £500 to £10,000.
Action Cancer is to receive £10,000 that will be used to take its Big Bus cancer screening service to six areas across NI not normally covered.
Another grant will allow publication of a book that will share the experiences of 10 children of mixed marriages in Northern Ireland.
Action Cancer's grant will help its Helping Build Healthier Communities project.
Sean Conlon, Big Bus co-ordinator, said: "Since it was launched in 2006 the service has literally saved lives.
"We have provided over 24,500 breast screenings and 13,500 MOT health checks in that time and our figures show that from every 1,000 breast screenings, six cancers are detected.
"The service is popular because it makes looking after your health very straightforward and convenient.
"There's no need to wait for an appointment at a surgery and perhaps have to take time off work to go along.
"With the bus parked in the heart of the community people can nip out in their lunch hour and be back at work or home again in 20 minutes."
'Difficult journey'
Majella McKenna, a mother of three from Silverbridge, County Armagh, had her cancer detected on board the Big Bus in late 2011.
Her breast cancer was seated very far back into the left breast, which a surgeon told her could not have been found by self-checking.
"The cancer had been detected at an early stage and was therefore treatable. For this reason I am very grateful to Action Cancer, the Big Bus really did save my life," she said.
"My journey has been a difficult one, but I am still here and my kids still have a mum. I can't thank Action Cancer enough."
A grant of £8,750 will allow the Northern Ireland Mixed Marriage Association (NIMMA) to publish its book.
It will be a follow-up to one published in 2012 called Mixed Emotions.
Ken Dunn, chairman of NIMMA, said: "We've known for a long time that there is a tremendous demand for information about mixed marriage from prospective couples, the press, the churches, community groups and the education sector. Now this new book will be a natural follow-on, telling the story and recounting the experiences of children from mixed marriages."
Joanne McDowell, Big Lottery Fund NI director, said: "The Big Lottery Fund's NI Awards for All programme funds health, education, environment and community projects that help people bring about positive change in their lives, improve health and well-being, develop skills and create safer communities.
"The application process is simple and accessible and shall remain so, making it easy for applicants to successfully apply for small pots of funding that can have such a big impact on local communities and lives."