Alexandria McNairn admits 'glassing' Natasha Quinn in nightclub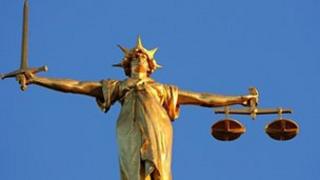 A young Belfast woman has told of her relief after the Scottish woman who attacked her has pleaded guilty.
Natasha Quinn, 21, was left scarred for life when Alexandria McNairn from Glasgow smashed a glass in her forehead at a Belfast nightclub last June.
McNairn, also 21, was freed on bail to return home before sentencing.
Ms Quinn said she was relieved at McNairn's guilty plea as it spared her the ordeal of having to relive the trauma of the unprovoked slashing.
It also meant she did not have to give evidence in open court, as she "didn't really want to go through with that".
She added: "It definitely has brought about a bit of closure for me and the fact she is going to be sentenced. I've got some justice, and I am also glad about that."
McNairn had been charged with unlawfully and maliciously wounding Ms Quinn, with intent to do her grievous bodily harm.
Permanent scar
Both young women had been in the riverside El Divino nightclub on Belfast's River Lagan on 30 June last year.
McNairn allegedly kicked Ms Quinn on the back of the legs, before grabbing her by the throat and smashing a glass into her face.
The resulting crescent moon-shaped deep laceration, which has left a permanent scar, needed over a dozen external sutures, in addition to a number of internal stitches.
McNairn was to have gone on trial at Belfast Crown Court, but has been allowed to return to her Dumbarton Road home before sentence.
Judge Gordon Kerr QC told McNairn while it was not his practice to grant bail to someone facing a jail term, the fact he was freeing her was no indication of the sentence she could ultimately expect.
McNairn will be sentenced once pre-sentence reports on her from the probation authorities are submitted to the court for consideration, in addition to a victim-impact report.