Loyal order leaders meet Catholic clergy in Belfast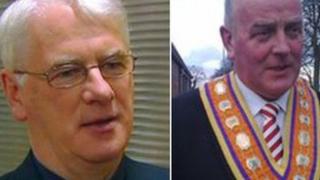 Some of the most senior members of the loyal orders have held a meeting with leading Catholic clergy in Belfast.
Bishop Noel Treanor led the Catholic delegation for talks with Orange Grand Master Edward Stevenson and Royal Black Sovereign Grand Master Millar Farr.
In a statement, the parties said they had discussed the issue of religious freedom in secular society.
The statement said all parties "had agreed the meeting was helpful" and committed themselves to further talks.
Bishop Treanor was accompanied by Rev Timothy Bartlett, secretary to the northern bishops, and Rev Michael Sheehan, administrator of St Patrick's Parish, Donegall Street, Belfast.
The loyal orders delegation included Grand Orange Lodge of Ireland Deputy Grand Master Rev Alistair Smyth, Grand Secretary Drew Nelson and Royal Black Institution Imperial Grand Registrar Billy Scott.