A&E concerns: Edwin Poots hears from staff at emergency care summit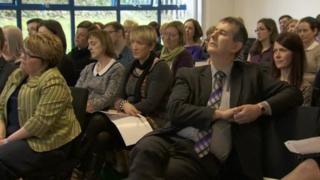 Problems in Northern Ireland's A&E units have left staff feeling "kicked, bruised and totally deflated" the NI health minister has been told.
The comments were made by Roisin Devlin, a nurse who addressed an emergency care summit in Belfast
She was among frontline A&E staff who were given the chance to outline their concerns to the minister, Edwin Poots.
The summit follows a number of recent incidents that have highlighted pressures on NI's emergency services.
A major incident was declared at the Royal Victoria Hospital (RVH) in Belfast last month, when a large backlog of patients led to lengthy waiting times in its emergency department.
Last week, the Belfast Health Trust admitted that delays in treatment may have been a significant factor in the the deaths of five patients at the RHV in 2013.
The emergency care summit was organised by the Royal College of Nursing (RCN) and attended by Mr Poots.
'Uncomfortable'
The health minster also met representatives the UK's largest public service union, Unison, who told him that hospital bed cuts and staff shortages had contributed to the major incident at the RVH on 8 January.
Ms Devlin works as an emergency care nurse at the Ulster Hospital, Dundonald on the outskirts of east Belfast.
After speaking at the summit she told the BBC: "I think there was a lot of honesty in the room and at times it was probably quite uncomfortable for the minister.
"But with respect to the minister, he took it in great grace. He listened to our concerns and he has given us reassurances that he will help us drive emergency care forward."
She said the atmosphere at the RCN summit was "very positive".
"The message quite clearly to the minister was that, while nurses have grave concerns about emergency departments at the moment - that we do have a problem - we as nurses can be part of that solution.
"We wanted to let him know loud and clear that we're prepared to help drive emergency forward and improve care for our patients," Ms Devlin said.
'Recruitment freeze'
Unison representatives challenged Mr Poots over the Transforming Your Care (TYC) strategy, the official plan for the reform and future delivery of health services in Northern Ireland.
The union said TYC has "resulted in bed closures across Belfast Trust, a reduction in homecare workers and district nursing in the community, a recruitment freeze in Belfast Trust along with inadequate numbers and qualified staff in A&E, all of which contributed to the major incident at the RVH".
Unison's regional organiser, Joe McCusker, said: "We also sought assurances from the minister that no further hospital bed closures would take place in Belfast Trust and that the minister should look at increasing bed capacity and ensure the appropriate staffing levels in trust hospitals, along with increasing investment in community care services, in order to avoid another crisis at Belfast A&E departments".
However, Mr McCusker added: "While the minister listened to our concerns, no commitment was given on the way forward or additional spending on the health service."
Janice Smyth of the RCN said staff wanted recognition of the difficulties in the service and action to resolve them.
"People understand that we've got a problem," she said.
"The college is absolutely clear about that. We do have a problem - it's not in the ED (Emergency Department), it's in the system, and we need to get that sorted out."
Janet Youd, chair of the Emergency Care Association, travelled from England to attend the summit.
'Whole system approach'
She said she was not surprised to hear there were problems in Northern Ireland's A&E units.
"As a nurse, I'm extremely saddened to hear when patients come to harm as a result of services they have received or not. But shocked? No, I think internationally there are pressures on emergency care services.
"Certainly in England over the last 12 months we've been highlighting the pressures in the system. You only have to look to the news - Scotland, Wales are experiencing similar pressures, so the pressures have been there."
Ms Youd said there were solutions to A&E problems but there was no quick fix.
"I think if there was a quick fix solution somebody internationally would have found that years ago, but we need to work together.
"As Roisin said, nurses can be part of that solution but it has to be a whole system approach, not just focused on the emergency department," she added.