Praxis: NIO 'flexible' on Hillsborough Castle charity timescale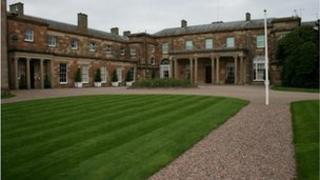 The Northern Ireland Office has said it is "willing to be flexible" about the timescale for a charity's departure from Hillsborough Castle grounds.
Sixteen people with learning difficulties work in a market garden and coffee shop run by Praxis Care.
The NIO gave Praxis use of part of the estate nine years ago, but said it was told last March it would have to leave.
Meanwhile, Health Minister Edwin Poots said he was seeking a meeting with Secretary of State Theresa Villiers.
"I have agreed to meet with representatives of Praxis later this week," he said.
"I am aware this is a complex situation, but I am keen to see if there is anything we can do to find a solution that causes minimum impact on those who are working there."
Praxis said it had invested £400,000 in improvements since moving to the site.
A spokesman for the charity said it welcomed the NIO's offer of a meeting.
"Praxis Care hopes this urgent meeting with the NIO will reduce the anxiety which our service users and staff are currently experiencing," the spokesman said.
"It would be grossly unfair to expect Praxis Care's investment to be simply handed over to Historic Royal Palaces to generate future revenue streams for this property management organisation."
'Not an option'
The spokesman said Praxis Care also appreciated the support received from members of the public, local politicians and the "enormous interest shown by the shadow secretary of state".
In a statement on Tuesday, the NIO said it had provided the charity with "very generous terms" including an annual rent of £1, but "this arrangement was never open-ended".
An NIO spokesperson said "continuing the status quo at Hillsborough Castle is simply not an option".
"In April, 2013 Praxis advised us that they were already exploring alternative sites in the Hillsborough area and asked the NIO for £25,000 to help with a feasibility study.
"Praxis Care is a charity with a revenue stream of £26m per annum, operating in dozens of locations throughout Northern Ireland.
"The NIO has a much smaller budget and given our financial constraints, it was explained to Praxis that this request for funding could not be met.
"We remain of the view that we provided sufficient time for Praxis to find alternative arrangements for the Secret Garden café and to prepare its clients for the move.
"We therefore deeply regret that Praxis now appears to be demanding a permanent presence at Hillsborough Castle, or even greater sums in compensation to leave."
Transition
Hillsborough Castle is the royal residence in Northern Ireland.
Since 1972, the NIO has been responsible for the day-to-day running of the Hillsborough Castle estate.
Last year, it was announced that in future the estate would be run by the charity, Historic Royal Palaces.
The government said it would operate on a more cost-effective basis, reducing the cost to the taxpayer.
Historic Royal Palaces is an independent charity that looks after the Tower of London, Hampton Court Palace and Kensington Palace.
The castle's transition is due to begin in April. Many of the changes will not take effect for two or three years.