Philip Strickland murder: Stephen McCaughey found guilty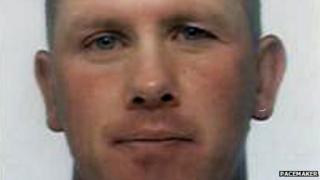 A fourth man has been convicted of murdering a County Down farm labourer two years ago.
Philip Strickland, 37, died after being shot in the face in January 2012.
Stephen McCaughey, 26, of Shackleton Walk, Newtownards, had denied murder and possession of a firearm with intent to endanger life.
His co-accused, Jimmy Seales, 56, Ballykeel Road, Hillsborough, was also found guilty of the charges on Monday.
Two of Mr Seales' sons, Ian and Jason Weir, Derryboye Road and Raffery Road, near Killinchy, County Down, had already pleaded guilty to murder.
Mr Strickland, a farm labourer, was shot in the leg at a yard on the Ballyglighorn Road, near Comber, County Down, before being bundled into the boot of his own car and driven a short distance to the Ballydrain Road, where he was shot in the face at point blank range.
Details of a local dispute several months before the murder emerged during the trial.
Seales claimed it began when he told a local man to remove cannabis being grown in a shed he owned. He was later stabbed and beaten with iron bars.
This was followed by Facebook comments and offensive graffiti about the farmer, that were blamed on Mr Strickland.
McCaughey, who went on the run for several days following the murder, admitted being present when Mr Strickland was killed, but repeatedly denied involvement.
He had told the court he was asked to go to the yard by Jason Weir, who had told him there might be a bit of trouble.
He said he "did what any friend would do" and went there, but said he was not aware a weapon would be present or that anyone would be killed.
The prosecution's case during the six-week trial was that all four men went there with the joint purpose of inflicting serious injury, and that by lending assistance to each other, they all participated in the crime and were equally guilty.
'Difficult time'
They have all been given mandatory life sentences and will learn at a later date how much time they will spend in prison.
Four other people previously admitted charges of perverting the course of justice, while Mr Seales' daughter, Lesley Weir, pleaded guilty to withholding information about the murder.
Speaking following the verdict, the victim's twin brother, Andrew Strickland, said: "It has been a difficult time for us; however we are happy with today's outcome and appreciate the support of everyone over these last two difficult years."
Chief Inspector Karen Baxter, who led the police's investigation, said Mr Strickland had suffered a "brutal and cowardly death".
"Those who knew Philip would accept he was not perfect but he was a hard worker who made the best of the skills he had to get work as a farm labourer, working long hours in all weathers and earn a living," she said.
"Socially, he enjoyed life and liked to laugh but, tragically, sometimes Philip didn't fully understand the consequences of his words or actions.
"A dispute with the Seales family, most notably on social media, sadly resulted in his murder."
She said the "vast majority of the local community were shocked and outraged by Philip's death".
"Many people worked with us to provide information and assistance which has culminated in the guilty verdicts. I want to acknowledge their co-operation and thank people for working with us.
"Sadly, a small group of individuals did not co-operate. Some of them are among the nine individuals who have been charged and convicted for the roles they played in Philip Strickland's murder. It is up to the court what happens to them now."