PSNI refuses hearing loss payments breakdown request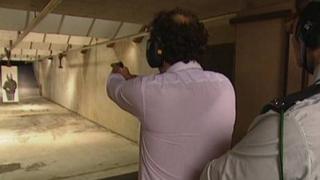 The Police Service of Northern Ireland has refused to give a breakdown of how over £65m in legal costs was spent in settling claims by former officers who said their hearing was damaged.
The BBC asked for the details after revealing last month that the total bill for the claims so far over £135m.
In response to a Freedom of Information request, the PSNI revealed its own legal costs amounted to almost £25m.
Just over £40m was paid to firms acting for former officers paid compensation.
But the police said it would cost too much to provide a detailed breakdown of how much each of the individual legal practices was paid.
To date, more than 8,600 former RUC officers have been paid compensation, and more than 2,000 other claims have yet to be settled.
Each year, the names of the 100 barristers and solicitors firms paid most for legal aid work are published, but the PSNI said it could not provide a breakdown of its legal payments.
In its FoI response, the PSNI said doing so would require the manual checking of more than 8,000 files.
It said this would take more than 600 hours to do, whereas the time limit permitted by the Freedom of Information Act is 18 hours.
The PSNI said a more refined request for information was also deemed impossible to answer within the appropriate cost limit.