Giro d'Italia: Arlene Foster says no to calls to remove murals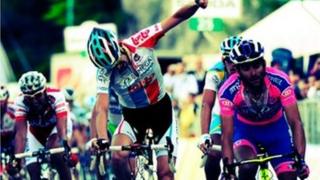 The enterprise minister has rejected a call from the Alliance Party that murals should be removed from the route of the Giro d'Italia.
The cycle race starts in Belfast for the first time in May.
Arlene Foster said if the murals were not of a paramilitary nature, they should remain to celebrate cultural heritage.
She agreed election posters should be removed from the route, but did not address the question of flags.
The Giro d'Italia stages in Northern Ireland take place from Friday 9 May to Sunday 11 May.
Polling day for the European elections is on 22 May.
Addressing the assembly, Mrs Foster said: "Murals are part of a cultural expression right across Belfast and right across Northern Ireland.
"I think it would be sad if visitors to Northern Ireland couldn't engage in appreciating the rich cultural heritage that we have here in Northern Ireland.
"Paramilitary murals, of course they should be taken down - they should never have gone up."
On Monday, Alliance MLA Anna Lo said: "Alliance agrees that we should take down election posters on the route of the Giro d'Italia for the duration of the race if there is agreement from all political parties.
"However, if there is cross-party agreement on this, then we should also look to take down flags and paramilitary murals along the route."
However, Community Relations Council chair Peter Osborne said such a move was only hiding the problem.
"While welcoming the idea of removing flags from lampposts on the route of the Giro d'Italia, it does remind me of a dysfunctional family who want to hide their behaviour when visitors come calling.
"The real need is not to simply hide the behaviour. The real need is to understand and change the behaviour.
"The real need, more immediately, is to fulfil a duty of care to people who feel bullied or intimidated by flags especially at sensitive locations. Flags erected on lamp posts to intimidate or mark territory simply should not be tolerated anywhere at any time."