Jack Crane: NI state pathologist leaves post after 24 years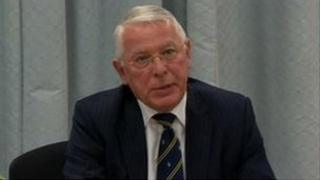 Northern Ireland's state pathologist Jack Crane has retired and a recruitment process is under way to fill his post.
Prof Crane held the position for 24 years, during some of the worst violence of the Troubles.
Justice Minister David Ford paid tribute to Prof Crane.
"His tenure was through some of the worst periods of violence and civil unrest in Northern Ireland," said Mr Ford.
"The leadership and professionalism he displayed as head of the state pathologist's department throughout those periods is to be commended."
Successor
Mr Ford said Prof Crane had been responsible for developing a forensic pathology service for Northern Ireland "of international renown".
He retired on 29 January.
The justice minister said that the role offered a "unique and exciting opportunity" for a suitably qualified forensic pathologist.
"I wish Professor Crane all the best for his retirement and thank him for his continued support whilst arrangements are being made to appoint his successor," said Mr Ford.
The deadline for receipt of applications is 12:00 GMT on Friday 7 March.