New law to crack down on sales of cigarettes to children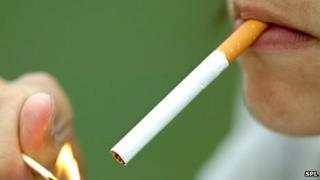 A new law designed to crack down on the sale of tobacco to children has been passed by the Northern Ireland Assembly.
The Tobacco Retailers Bill creates a register of traders and introduces steps to deal with persistent offenders.
It aims to restrict the availability of cigarettes to those aged under 18 and target adults who buy for children.
Some 2,300 people die in N Ireland each year due to smoking-related illnesses.
The latest research shows that 8% of 11 to 16-year-olds use tobacco.
Health Minister Edwin Poots said the assembly must do all in its power to limit smoking.
He said: "This bill will help reduce the number of young people taking up smoking and will ultimately help to save lives in Northern Ireland."
Once Royal Assent has been given to the bill, retailers who are repeat offenders will face a ban on selling cigarettes.
Mr Poots told the assembly that most smokers took up the habit before adulthood. More than 357,000 adults are smokers, a quarter of the total population.
Each year hospitals record about 17,000 tobacco-related admissions.
The estimated hospital costs of treating tobacco-related diseases are about £164m each year.
Mr Poots added: "Given the widespread damage caused by smoking, it is incumbent on us, as legislators, to ensure that we do everything in our power to prevent people becoming addicted to this lethal habit."
He said the bill would provide a strong deterrent to retailers from selling tobacco to under-18s and would also create an effective enforcement tool for local councils.
"I have no doubt that the vast majority of retailers are conscientious and law abiding," he said.
"However, the evidence shows that shops continue to be the main source of tobacco for under-18s," he added.
Availability
Maeve McLaughlin, Sinn Fein chair of Stormont's health committee, said the legislation was a step forward and welcomed strict sanctions against retailers who continue to sell to under-18s.
"The assembly can congratulate itself on getting this bill onto the statute book," she added.
SDLP MLA Pat Ramsey said: "The fact remains that 2,300 people die here every year from smoking-related illnesses, which is an extraordinarily high figure.
"Furthermore, over 80% of smokers actually started within their teenage years and it is therefore incumbent on the assembly to actively attempt to reduce the number of our young people who take up smoking.
"If we can put statutory measures in place now that will reduce the availability of cigarettes to younger people, then we will lessen the likelihood of progressive smoking habits that may manifest through their 20s and 30s and we will eventually begin to tackle the prevalence of smoking-related illnesses within our society."
Northern Ireland MPs have backed calls for a ban on smoking in cars in England and Wales when children are passengers.