Gerry Kelly: Police Land Rover driver accepts reprimand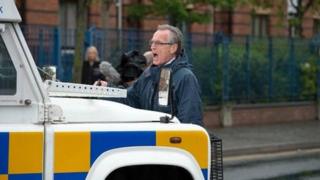 A police officer has accepted a formal reprimand for his part in an incident when Sinn Féin MLA Gerry Kelly was carried on the bonnet of the Land Rover he was driving.
In January, Mr Kelly received the same sanction for clinging to the vehicle while attempting to stop it during a contentious parade last June.
A person refusing to accept the "informed warning" can be prosecuted.
The Police Federation said the officer's warning was "unjustified".
While an informed warning is not a conviction, it is recorded on a person's criminal record for 12 months.
Police Federation chairman Terry Spence said: "The glare of publicity, and the burden it placed on his family, lay behind the officer's reluctant decision to accept the informed warning.
"Mr Kelly has accepted the warning, which in our view makes the decision of the Public Prosecution Service to mete out the same sanction all the more incomprehensible.
"Put simply, the officer was merely doing his duty, and the Police Federation is saddened over the way he has been used as a political pawn in this incident."
The officer was reprimanded for driving without due care and attention.
North Belfast MP Nigel Dodds said: "A police officer has had an informed warning imposed for simply doing his job.
"It is bizarre and quite disgraceful that the victim of this obstruction has been handed the same penalty as the person guilty of carrying it out."