Bafta awards: Philomena wins best adapted screenplay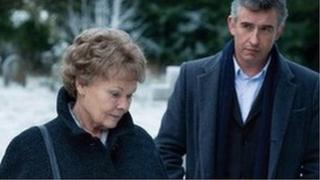 There were mixed fortunes for films with Northern Ireland connections at the Baftas on Sunday night.
Philomena, the story of an Irish woman's 50-year search for her son, won the award for best adapted screenplay.
It was partly filmed in County Down and stars Dame Judi Dench and Steve Coogan.
But the writers of Good Vibrations - the movie telling the life story of record shop owner Terri Hooley - missed out on the award for outstanding debut.
Philomena was co-written by Coogan and Jeff Pope.
Their screenplay was based on the true story of an Irish woman trying to find the son she was forced to give up for adoption.
In his acceptance speech Coogan praised the "real Philomena Lee".
He said: "Her story has been told and her story finished in the Vatican. She has been heard but there are 60,000 other women who have yet to trace their children, and their story isn't over."
The movie has also been nominated for four Oscars, including best picture.