Academic calls for debate on devolved immigration and asylum law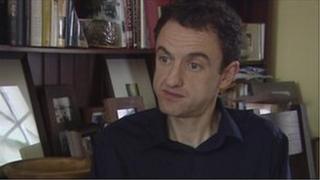 A leading academic has said it is time to consider if immigration law should be devolved to the Stormont Executive.
All immigration and asylum law is currently set by Westminster and is not a devolved matter.
Professor Colin Harvey, a human rights expert at Queen's University Belfast, made his remarks in the BBC Radio Ulster documentary Nowhere to Go.
On Friday the executive announced they would set up a 'crisis fund' for migrants, asylum seekers and refugees.
Professor Harvey said an "urgent debate" must now take place between local political parties and the wider population.
'Real conversation'
If immigration and asylum law was to become devolved they would become the responsibility of Northern Ireland's first and deputy first ministers.
The BBC Radio Ulster documentary has been charting the lives of destitute asylum seekers and refugees who are living in Northern Ireland.
They often live in extreme poverty and survive due to the kindness of strangers, churches and charity groups who provide them with food and shelter.
"The policy in the UK over the last decade or more has been dominated by the principals of deterrence, deflection and restriction," said Prof Harvey.
"One aspect of that has been to deter asylum seekers by having a policy of reduced welfare support for those who are seeking asylum in the UK
"That has been one of a number of measures that successive governments in London have deployed as part of that approach."
Prof Harvey, who has written a number of books on asylum law, thinks it is now time to have a "real conversation" about devolving the issue.
"The question I think we now desperately need to ask in Northern Ireland is do we want to be guided by a Westminster-led approach to asylum law, to refugee law and to immigration law generally?" he said.
"I think that is a big question that our political parties and everyone here in Northern Ireland must address.
"Do we want to be a more welcoming place to those coming to Northern Ireland to seek refuge, to seek sanctuary, to seek a safe place here? We know ourselves the experience of conflict here in Northern Ireland.
"Do we still want to continue to be be led by a narrow Westminster dominated approach to this issue or do we want to begin to promote a broader conversation to make Northern Ireland a more welcoming place to those who come to seek refuge here?"
'Deeply concerning'
Prof Harvey said that Northern Ireland should consider its own system because "our priorities here will be different and are different".
"We need to raise the profile of this conversation. There are good things happening in Northern Ireland and there are deeply concerning things happening in Northern Ireland," he said.
Although immigration and asylum law are not devolved, Prof Harvey believes improvements could be made to make lives better for asylum seekers in areas such as health, education and housing, which Stormont does have control over.
"There are matters of policy across the board that are devolved in Northern Ireland where there is scope for us to adopt a different, more welcoming approach and look at the areas where we can make a difference .
"Not just in big legislative measures but in every day things that we could all do," he said.
Nowhere To Go will be broadcast on BBC Radio Ulster and BBC Radio Foyle on Sunday 16 February 2013 at 13:30 GMT. Talkback will be debating this issue on BBC Radio Ulster on Monday 17 February at 12 noon.