Women awarded £28,000 after photos posted on prostitute website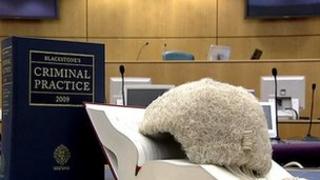 A Northern Ireland woman whose private photos appeared on a website for prostitutes is to receive £28,000 in damages, the High Court has ruled.
The award was made to the mother-of-one for her ordeal in being falsely portrayed as advertising sex for sale.
She sued the United States-based operators of the site after being alerted by a friend that her pictures had appeared on it in 2011.
The woman has never been involved in prostitution.
Alongside photographs "of a highly personal and sexual nature", the court heard information was posted on a range of sexual services and prices.
Distraught
The photos were taken either by a former partner or herself and sent to others in private. No consent was given for their publication.
Although inaccurate contact details were included and she received no requests for sex, the discovery was said to have left her distraught.
By the end of September 2011 the posting had been viewed more than 17,000 times.
It also remained on display for a further year and a half despite attempts to have it removed.
In an effort to get the material taken off the site the woman, who cannot be identified, contacted police.
They were unable to assist but instead notified social services because of her young child.
Concerned at any possible danger to the child if she was working as a prostitute, an investigation was carried out before social services concluded she had no involvement in the sex trade.
However, those inquiries heightened the distress already suffered by the plaintiff.
She sought damages against AW Systems Ltd for libel, harassment and misuse of private information.
Judgement was made in her favour after the defendant failed to enter an appearance.
Harassment
Dealing with the level of damages to be awarded, Master McCorry held that falsely portraying a young woman as a prostitute amounted to "oppressive and unacceptable behaviour".
He said: "In this case the more outrageous and malicious conduct was by the unidentified persons who posted the information on the website in the first place, with the defendant's conduct being failure to remove it for a period of one and a half years after the notification of its wrongful nature."
The Master ruled that the woman was entitled to £15,000 compensation for defamation and harassment.
He imposed a further £10,000 in aggravated damages for the defendant prolonging her distress by refusing to remove the material for 18 months and not issuing an apology.
The award was increased again by an extra £3,000 for the misuse of private information - a developing area of law normally centred on actions against celebrity magazines by the famous.
Master McCorry said: "I therefore give judgement for the plaintiff against the defendant in the sum of £28,000, with High Court costs to be taxed in default of agreement."