Kelan Benson believes in taking care of the pence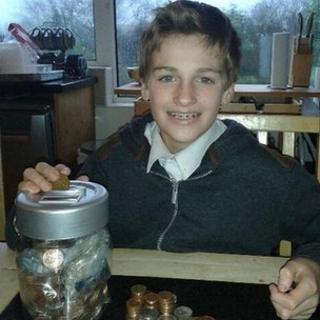 Kelan Benson, 11, wants a bank account and he has saved 12,500 pennies to prove to his parents that he can be trusted with that responsibility.
Since he started saving in the summer he has amassed more than £125 in spare change.
Everywhere is a potential goldmine for Kelan.
He takes the coppers from his mum's dashboard and when his dad empties out his pockets, but he often hits the jackpot in school.
"In school I've found loads - 20ps and 50ps everywhere."
His inspiration came from his mum.
"She used to always put loose change into a jar and then when the jar was full we used to count it and put it in bags," he said.
Thrown in bin
"Then mum used to take it down to the bank and change it into notes and split it between me and my brother."
The sensible youngster wants to buy Xbox games before his mum "spends it all on groceries".
Kelan contradicts a recent survey that claims 100% of people in Northern Ireland have thrown their coppers in the bin in the past year.
Although if everyone was as conscientious, Kelan would not be quite so well off.
Annie Shaw, a financial journalist, was very impressed at Kelan's endeavour.
She said: "Clearly he is a thrifty and entrepreneurial young man. He deserves a reward for his efforts."
Her advice for Kelan? To keep saving and open that bank account.
She added: "Lots of children's accounts are gimmicky and give you free piggy banks but he needs one with a good interest rate.
"This is a foundation for him. £125 is an enormous amount of money."