Joke bid to bar women from pub during TV football match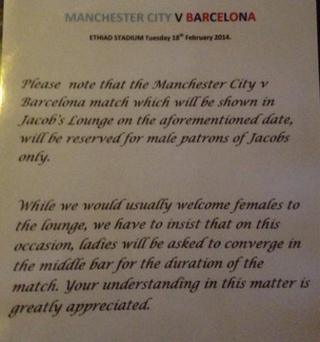 It was a big match tactic straight out of a 1970s playbook.
But a joke notice in a County Dublin pub had some customers reaching for the red card.
The notice posted on a wall in Jacob's Bar in the village of Saggart warned women they would not be allowed in the lounge during Tuesday night's game between Manchester City and Barcelona.
Passing trade drinkers were surprised to read that the lounge would be "reserved for male patrons only".
Male drinkers, it seemed, do not want to be distracted by the chatter of women when watching the important Champions League match on TV in the bar.
"While we would usually welcome females to the lounge, we have to insist that on this occasion, ladies will be asked to converge in the middle bar for the duration of the match," the notice read.
"Your understanding in this matter is greatly appreciated."
Bar manager Ciaran Power said reaction to the joke notice had caused mostly amusement and amazement among his regulars.
He said Jacob's was a small country pub where everyone knew everyone else and enjoyed a bit of craic.
"The notice was the idea of a customer, he's a complete messer, a joker. He thought it would be a real laugh," Ciaran said.
He said his regular customers, male and female, saw the funny side of the prank but some non-regulars had been annoyed.
"I could not believe people thought it was for real, but I apologised to those who felt offended."
"The phone didn't stop ringing yesterday. We had calls from newspapers and radio stations asking about the notice.
"I heard that, up to yesterday, the Journal website had the story online and had 35,000 hits."
One elderly man said he thought women-free bars would be a good idea.
"They will be looking for the vote next," he said. He thought it wise not to give his name.