Garth Brooks: Croke Park residents consider legal action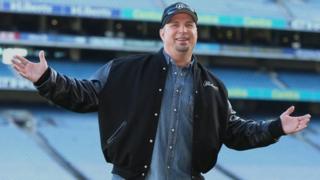 People who live near a Dublin stadium that is due to host five Garth Brooks concerts are considering legal action against the organisers.
All five of the American country star's Irish concerts sold out within hours.
About 400,000 people are due to attend the shows at Croke Park stadium on 25-29 July. The stadium is owned by the Gaelic Athletic Association (GAA).
The residents said the area is "locked down" during concerts. The GAA said it would not comment while talks continue.
Pat Gates from the Clonliffe and Croke Park residents' association said people living near the stadium had been treated "disgracefully" by those who are planning to stage the concerts.
He said about 25,000 people live in the vicinity of Croke Park and about 6,000 of them live inside a zone that is adversely affected during large events.
Mr Gates said these residents experience major disruption to their lives in the run up to major concerts, having to put up with noise pollution, traffic congestion, litter, drunken concert-goers and anti-social behaviour.
He claimed that the organisers of the Garth Brooks concerts did not consult the residents before announcing the shows or putting the tickets on sale.
Mr Gates was among the residents who attended a "heated" meeting with the GAA earlier this week.
He said that mounting a legal challenge to the concerts was just one option among a number of actions that residents were considering.
Mr Gates said they were also considering protests and challenging the venue's licence bid.
The GAA's head of media relations, Alan Milton, said his organisation had given an undertaking that it would not comment on the matter publicly until it had completed its consultation with residents.
Earlier this month, the concert promoter, Aiken Promotions, said it was the first time an artist would play five consecutive sold-out dates at the Irish venue.
The BBC has asked Aiken Promotions for a response to the residents' complaints.
Garth Brooks is one of America's most famous country stars with a career that has seen him become one of the best-selling artists of all time.
The 52-year-old has recently said that Ireland was the best place in the world for him and his favourite place to sing.
He has sold more than 125m albums with hits such as The Thunder Rolls, Friends in Low Places and Unanswered Prayers.
It has been 17 years since his last concert in Dublin.