Northern Health Trust: Urology delays due to doctor shortage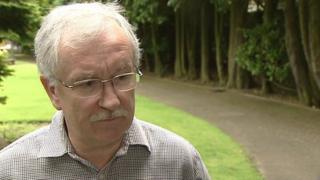 A health trust has admitted that its urology service is under pressure after a politician who was diagnosed with cancer queried patient waiting times.
Sinn Féin's Oliver McMullan was treated for prostate cancer, but has waited eight months for a check-up.
He raised concerns that other patients were also experiencing long waits at County Londonderry's Causeway Hospital.
The Northern Health Trust said patients were waiting "longer than the trust would like" due to a staff shortage.
'Worry'
Mr McMullan told BBC Radio Ulster that when he contacted the trust he was told they were "only treating red flag referrals and urgent referrals".
A representative of the trust said the organisation has been unable to recruit a consultant to fill a vacant post in its urology department, and as a result was prioritising urgent cases.
The Sinn Féin MLA was initially treated for prostrate cancer at Belfast City Hospital, and was due to have a review appointment at the Causeway Hospital, Coleraine, last July.
He is still waiting and said he has been given no information on when he his likely to receive his check-up.
"When you get diagnosed with cancer, when it hits you that you've got this disease, it affects people in different ways. Some people can handle it, some people worry about it," Mr McMullan said.
'High demand'
He said review appointments were "very important" to people who are recovering from cancer because their progress is assessed and they are given information on how they are coping with the disease and the treatment.
"I'm coping alright, but what worries me is other people," Mr McMullen said.
"How many other people are on this waiting list as well, waiting for their review appointment?
The MLA said he "can understand" the need to prioritise urgent cases, but said he was concerned that if he was waiting "eight months and counting", there must be many other patients in the same position.
In a statement, the Northern Health Trust said: "There is a very high demand for urology services within the Northern Trust which exceeds the clinical capacity available within the urology team.
'Clinical need'
"The situation has been further affected by a consultant vacancy, which remains unfilled despite a number of recruitment attempts.
"During this challenging time the trust has had to prioritise patients on the basis of clinical need with priority given to red flag referrals which are potential cancers and urgent cases.
"This has resulted in patients referred as routine or requiring a review appointment waiting longer than the Trust would like."
The statement added that the trust was "working with the Health and Social Care Board to resolve the situation".
Mr McMullan said: "If they are overworked in urology, then the minister has to step in and get more personnel in there."