Housing Executive inquiry 'being obstructed' by Stormont department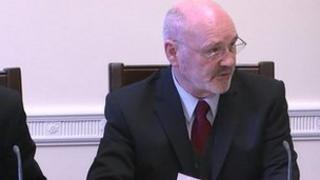 A Stormont department is obstructing a committee's work over an inquiry into allegations made in a BBC programme, its chairman has said.
BBC NI's Spotlight alleged there had been political interference in the running of the Northern Ireland Housing Executive (NIHE).
The Social Development Committee is investigating the claims.
Its inquiry has been examining if there was any impropriety or irregularity relating to NIHE-managed contracts.
Committee chairman Alex Maskey said members had been advised that papers from the second phase of the inquiry would be provided from the Department for Social Development (DSD) to the committee by 28 February.
However, he said the committee was still waiting for DSD to provide information in respect of the first phase.
"I want to record my deep frustration," Mr Maskey said.
"I consider this to be an obstruction of this committee's ability to do its work.
"We have been unable to conduct this inquiry in a more expeditious time frame, on the basis of not receiving documentation on time from that department.
"It's totally and utterly unacceptable".
Members agreed with suggestions from the TUV's Jim Allister and the SDLP's Dolores Kelly that a statement would be written to alert the public of the delay.
The matter will also be raised with the head of the civil service and the assembly speaker.