Foras na Gaeilge say cuts economic not political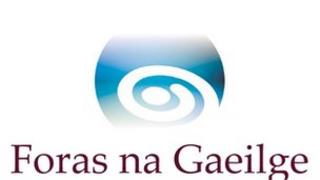 Decisions to cut funding to Irish language groups based in Northern Ireland were taken for economic reasons not political ones, according to an all-Ireland Irish language body.
Foras na Gaeilge is cutting the number of Irish language groups it provides "core funding" for, across the island of Ireland, from 19 to six.
None of the six are based in Northern Ireland.
The changes in funding arrangements will take effect from July.
The chief executive of Foras, Ferdie Mac an Fhailigh, told the BBC's The View programme: "This was not about north versus south or east versus west.
"This is about promoting the language and providing better services in a more efficient way to the Irish language communities.
"It is about getting people out into the community and providing services."
Pobal, Iontabhas Ultach, Forbairt Feirste and Altram will lose a significant portion of their budgets.
They provide support for the language in business, education and the arts in Northern Ireland.
Representatives from the groups gave evidence at Stormont on Thursday and told MLAs the changes would mean Irish language provision in Northern Ireland would suffer and staff would be made redundant.
Devastating effect
Last year, at a North-South Ministerial Council meeting, Northern Ireland Culture Minister Carál Ní Chuilín, endorsed a new funding model for Irish groups across the island of Ireland.
Róise Ní Bhaoill from Ultach, a cross-community body based in Belfast, believes the funding changes will have a devastating effect.
She told The View: "It'll have an absolutely detrimental effect on service for the Irish language community. We're talking about dismantling the whole of the infrastructure for the Irish language community, we're talking about support for early years, we're talking about cross-community activity, we're talking about economic development."
Asked whether Sinn Féin had misjudged this issue, Ms Ní Bhaoill said: "It seems to me, that yes, they have. Whether they set out to do that or not, I'm not sure, but these are the consequences of the decisions made at the North-South Ministerial Council".
As an all-Ireland party, Sinn Féin likes the idea of Irish language provision on a 32-county all-Ireland basis.
Money, and in particular the amount spent on salaries, is part of their argument for change.
Sinn Féin MLA Rosie McCorley believes the changes mark a more efficient use of resources.
"I think it is more important to focus on spending the money wisely on the future," she said.
"We want to see that delivered in Belfast, in the north and throughout the whole island of Ireland."
However, Pat McAlister who works for Altram, one of the groups affected by the budget cuts, disagrees.
The west Belfast group works in the Irish pre-school sector and since 2008 Foras na Gaelige has given Altram nearly £1m.
The group has also secured £500,000 from other sources.
Staff at Altram reject suggestions too much money is spent on salaries.
"We are actually being paid pro-rata a lot less than people in the south for the same kind of work," Ms McAlister said.
Budget cuts
"We do not think we are over-staffed and we certainly do not think we are overpaid."
Pobal, the umbrella organisation for the Irish language community and Forbairt Feirste, which is a development agency, will also face budget cuts.
Across all the northern-based groups it is feared around 15 jobs could disappear.
However, Ms McCorley said talk of redundancies was premature and she believes existing staff could be redeployed.
"Whilst the groups in name might not exist, the people and their expertise does need to be central to the new arrangements," she said.
"So, for instance in west Belfast, the people who have been delivering to those groups, I feel they do need to be part of the new arrangement.
"So they need to deal to be engaging with their lead group which deals with their range of work."
Two organisations in Northern Ireland that receive core funding from Foras na Gaeilge will be protected from the changes.
Radio Failte, an Irish language station based in Belfast, and An tÁisaonad, an Irish education resources centre based at St Mary's teacher training college on the Falls Road, Belfast, will continue to be funded under separate arrangements.
The View is on BBC One Northern Ireland at 22:35 GMT on Thursday