Music teacher Claire Thompson's music exams were fake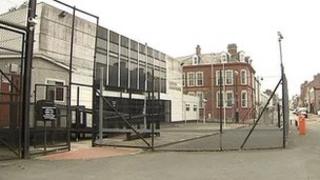 A music teacher who duped five families into believing their children were sitting piano exams has been given a two year probation order.
Claire Thompson, 25, pleaded guilty to 14 offences of fraud by false representation and two further counts of using a false instrument between 1 January 2010 and 1 November 2011.
The judge warned any breach would see her re-sentenced.
A police investigation began after a number of parents complained.
A prosecution lawyer had told Lisburn Magistrates Court how the police first began investigating Thompson in November 2011 when a number of parents alleged the music exams their children had sat "were not legitimate".
They told police how although Thompson had been teaching their children how to play the piano and other instruments over the then previous two years, exams apparently registered with the London College of Music (LCM) were fake.
'Bogus'
The lawyer recounted how police investigations revealed the LCM "did not have any record of them entering the exams or of the defendant being one of their affiliates" and that other families had also been duped by her.
"Lessons were provided, exams paid for and certificates produced," said the lawyer "but in the investigation the exams and certificates were found to be bogus."
Thompson, of Old Hillsborough Road, Lisburn, County Antrim, was questioned about the allegations, but tried to shift the blame onto a supposedly new course co-ordinator, further claiming that she could not provide any contact details for the woman.
The lawyer said that by her guilty pleas to the 16 offences, Thompson now accepted her claims were lies and that the certificates provided by her had been doctored.
In total said the lawyer, Thompson deceived seven children from five separate families.
A defence lawyer said his client had instructed him to "extend her regret, embarrassment, shame and apologies to all of the families for the distressed caused".
District Judge Rosemary Watters told the single mother she had "never dealt" with a fraud like hers before but that nevertheless, it was serious given the "breach of trust" and that it "involved children and their families who were distressed".
As well as the two year probation programme, during which time Thompson was ordered to undergo a "thinking skills course," the judge also ordered her to pay £50 to each of the families, allowing her ten weeks to pay.