NI crisis fund for migrants, refugees and asylum seekers to be set up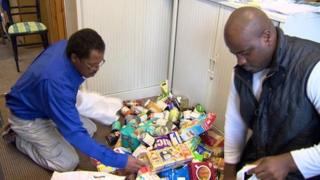 The Stormont Executive is to set up a crisis fund for migrants, asylum seekers and refugees living in NI.
It is not yet clear how much money the Office of the First and Deputy First Minister (OFMDFM) will make available, or who will be eligible to apply.
The fund would provide a small amount of money for those who have issues with benefits, unemployment, have suffered family breakdown or domestic violence.
BBC Radio Ulster will broadcast a documentary about refugees on Sunday.
A short pilot project ran in 2012 and looked at whether small amounts of money could provide a significant bridge to allow people to get back on their feet.
During the pilot 13 organisations allocated £43,402.97 and helped 1,252 people.
Those who benefited from the fund came from many different parts of the world including Europe, Africa, South America and Asia.
In total, people from 54 different countries accessed the emergency fund.
'Good news'
The BBC understands that OFMDFM plans to introduce the fund on a more permanent basis and hopes to have it up and running in six weeks time.
An OFMDFM spokesperson said: "In line with recommendations, from an evaluation of the Minority Ethnic Development Fund, agreement has been reached in principle for the introduction of a 'crisis fund'.
"The department is currently considering operational details of the fund including eligibility and governance arrangements.
"It is hoped that the fund will be up and running by the start of the new financial year (2014-15)."
The announcement that the fund is to be reinstated has been broadly welcomed by charities who support vulnerable people.
Jo Marley, director of Bryson Intercultural, said "We would welcome this announcement. There was an emergency fund at an earlier stage and it made a big difference.
"To asylum seekers very little goes a very long way so I'm delighted with this news."
Justin Kouame, the chairman of the Northern Ireland Community for Refugees and Asylum Seekers, said: "This is very good news.
"I know different organisations have been pushing for this for a long time and now we need to look at it and see how this money is going to be distributed and who is going to be involved."
The Red Cross, who provide support to asylum seekers and refugees in Belfast, also welcomed the news.
Neil McKittrick said: "That fund provided a short-term, small amount of money to get people through the worst of their hardship while they address the underlying cause of their destitution so we really welcome the reinstatement of the fund."
The announcement of the fund was welcomed by Anna Lo MLA from the Alliance Party.
"The measure of a good society is how we look after the most vulnerable. A number of organisations and churches have had to step in and provide support to these refugees and asylum seekers in the absence of government support," she said.
"A small amount of money can make an enormous difference to these people. In particular, to destitute asylum seekers who are often left in limbo with very few options and have difficulty accessing services."
Nowhere to go will be broadcast on BBC Radio Ulster and BBC Radio Foyle on Sunday 16 February 2013 at 13:30 GMT. It will then be available on BBC IPlayer.