NI weather: Drivers battle through snow and ice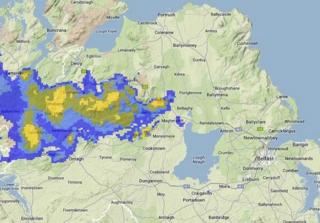 Snow and ice in western and northern parts of Northern Ireland have made driving conditions difficult for a second consecutive day.
Ulsterbus services between Clogher and Omagh, County Tyrone, are cancelled.
In County Down, the A2 coastal road between Warrenpoint and Rostrever is to stay shut for at least three days after it partially collapsed on Wednesday.
Meanwhile, NIE is sending 70 staff to the Republic of Ireland to help repair its storm-damaged electricity network.
Fallen trees
The staff are a mixture of NIE line engineers and tree cutters who will travel across the border on Thursday, where they will assist Electricity Supply Board (ESB) crews in restoring power supply to tens of thousands of homes.
Around 165,000 ESB customers are still without electricity in the Republic and the company has warned it may be a number of days before service is fully restored.
ESB Networks managing director Jerry O'Sullivan told the Irish state broadcaster, RTÉ, that crews are facing a "mammoth task" to reconnect supply.
Kevin McDowell, NIE's head of health, safety and environment, said: "In this business we need to respond quickly so it's good to help out colleagues when we can - it only takes the wind to change for us to have to call in those favours.
"Over the last few years and particularly in last year's snow storm, we benefited greatly from help from Great Britain and the Republic of Ireland so we understand the need for mutual aid following this type of weather."
In the west of Northern Ireland, snow and ice caused problems for morning commuters on many roads between Coleraine and Maghera in County Londonderry.
In County Down, there was disruption on the Bangor railway line after strong winds uprooted a tree at Craigavad.
Grit
A bus substitution was put in place for affected train passengers from 1225 GMT to 1300 GMT, while engineers worked to clear the area.
Belfast Zoo closed for a short time on Thursday morning due to the icy weather.
However, more grit was spread around the site and the zoo reopened to visitors shortly after 11:00 GMT.
The latest travel and weather updates are available on Twitter via BBCNI Travel and BBC NI Weather.
At one point on Wednesday night, 1,500 customers were without electricity in parts of County Down, as winds reached 80mph.
However, an NIE spokeswoman said its network was now operating as normal.
About 260,000 electricity customers in the Republic of Ireland lost their power supply overnight due to very strong winds.
Gusts of 100mph (160kmh) were recorded at Shannon Airport, which was closed for a short time at the height of the storm.