Bank inquiry: Sajid Javid highlights NI and Republic integration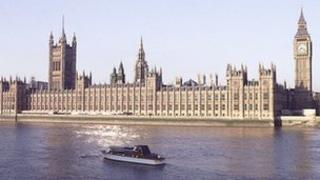 The decision of the UK to make a £3.2bn loan to the Republic of Ireland as part of its bailout recognised the degree of economic integration between the Republic and Northern Ireland, a Treasury minister has said.
Sajid Javid was giving evidence to a Westminster inquiry.
It is investigating Northern Ireland's banking industry.
Mr Javid said it was in "the best interests of the UK" to help the Republic of Ireland at that time.
He said when the loan was made in 2010, one of the things "utmost in mind" was the integration between the two countries.
Mr Javid said the Northern Ireland economy had been "hit at both ends" due to the banking crises in both the UK and Ireland.
Two of Northern Ireland's "big four" banks are based in the Republic; First Trust/ AIB and Bank of Ireland.
'Badly-run'
Anglo Irish Bank was also a major property lender in Northern Ireland. It is being liquidated with the last of its Northern Ireland loans being offered for sale.
Asked about the imminent publication of a review of of Ulster Bank's operations, Mr Javid said that Ulster "like many parts of RBS" had been "badly run" in the past.
He added that the bank was "drawing lessons" from that and was looking at how to become more sustainable and contribute to the Northern Ireland economy in "the very long term".
The minister said that he supported the RBS policy of working through its distressed loans using an internal bad bank.
Mr Javid also called for the publication of detailed lending data for Northern Ireland.
Postcode-level lending data has been made available for the rest of the UK, but no figures for Northern Ireland have yet been published.
Mr Javid said the data could stimulate competition in the market as it would allow new entrants, such as peer-to-peer lenders, to assess levels of demand.
A previous session heard from Gerry Mallon, the Danske Bank chief executive, that details of total bank lending to the different sectors of the Northern Ireland economy should be published soon by the British Bankers Association.
However, the head of Ulster Bank in Northern Ireland, Ellvena Graham, cautioned that postcode-level data might not be made available because it could compromise customer privacy in some sparsely populated areas.
The banking inquiry is looking at the way banks are run, how they provide finance to small and medium sized businesses and access to banking in rural communities.