Theresa Villiers to highlight planning during speech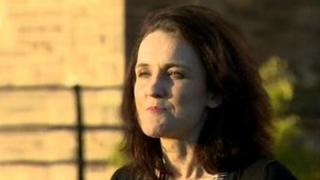 The secretary of state is set to highlight NI's planning system during a speech on Thursday.
Theresa Villiers is expected to use her address to the British Irish Chamber of Commerce to encourage NI's ministers towards change and agreement.
She will also highlight that business here is more heavily regulated than other parts of the UK
She is also expected to say NI needs to tackle public sector and welfare reform, and reduce red tape.
She will quote a comment by the Sainsbury's chief executive that Northern Ireland is the "hardest place in the UK to line things up".
Environment Minister Mark H Durkan unveiled proposals to simplify planning policy earlier this month.
She will also express her hopes that the welfare bill, currently deadlocked, will make progress in the assembly.
While encouraged by Finance Minister Simon Hamilton's commitment to public sector reform and Enterprise Minister Arlene Foster's project to cut red tape, Ms Villiers will say Northern Ireland can be no exception in delivering services more efficiently.