Mountpottinger attacks: Women win case over intimidation scheme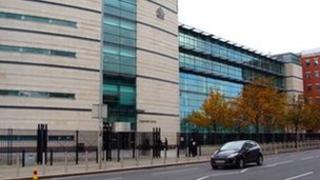 A mother and daughter who left their east Belfast homes amid repeated sectarian attacks have won a case in the Court of Appeal.
Rosaleen Cooley, 70, and her 51-year-old daughter, Annette, suffered years of abuse and criminal damage to their houses on Mountpottinger Road.
However, they were denied permission to sell their homes through an initiative for intimidated owners.
Senior judges have now quashed that decision by police.
The Police Service of Northern Ireland had refused the pair Chief Constable's Certificates - these were required for the Housing Executive's Scheme for the Purchase of Evacuated Dwellings (SPED).
Three judges held that a proper analysis was not carried out into the risk created by an incident where a bullet was discovered in Annette Cooley's hallway.
Lower end
Lord Chief Justice Sir Declan Morgan also said a senior officer who assessed their cases was not in a position to decide that the pair's psychological injuries were at the lower end.
Reported incidents involved stone and firework attacks. With neither homeowner living there now, they attempted to sell through the SPED scheme.
Both applications were turned down, however, after the PSNI refused to issue a Chief Constable's Certificate.
Although it was accepted that they had been directly or specifically threatened or intimidated, the police concluded in November 2011 they were not at risk of death or serious injury.
In a failed High Court challenge, Rosaleen Cooley was described as an elderly woman with a "serious mental health problem" whose daughter now lives with and cares for her.
A letter sent to the chief constable on Annette Cooley's behalf, by SDLP MP Alasdair McDonnell, described how the windows on her home were covered by steel grids and triple glazed for extra reinforcement against missile attacks.
Heavy drops bars were installed on the front door, although it had not been used for years because it was too risky, he wrote.
Missile attacks
Dr McDonnell also stated: "Annette, her family and any guests remain in the kitchen at the back, instead of the living room at the front.
"Lights cannot be put on at this side of the house at all during the night, because this is an indication that there is someone inside, and very often a precursor to a barrage of missile attacks."
Her doctor also stated that she has suffered anxiety, stress and sleeplessness due to threats, abuse and other problems over 13 years living on the interface.
"She has retreated to her house and is afraid to go out especially in the evenings or at night," he added.
The Cooleys were provided with alternative accommodation after the Housing Executive accepted Annette was unintentionally homeless and entitled to intimidation points.
A High Court judge dismissed their judicial review, ruling that the assistant chief constable (ACC) who made the decision had taken account of all relevant considerations.
Bullet incident
However, the Court of Appeal overturned that ruling based on the assessment of the bullet incident.
Referring to the Cooleys' case, Sir Declan said: "That was a specific threat directed to the persons residing at that address, threatening to kill them and was of a different character from the threats arising from the location of the property on the interface."
He judged said that nowhere in the ACC's submissions was there any analysis of the additional specific threat or risk posed by the discovery of the bullet.
"Reasons should have been given explaining the assessment of the bullet incident and the risk to which it gave rise," he said.
Sir Declan, sitting with Lord Justice Girvan and Mr Justice Weatherup, also found that the ACC was not in a position to conclude the mental health consequences for either of the Cooleys was at the lower end of psychological injury.
He confirmed: "The appeal is allowed and the decision to refuse a Chief Constable's Certificate is quashed in each case."