CJI: Forensic Science Service has not addressed delays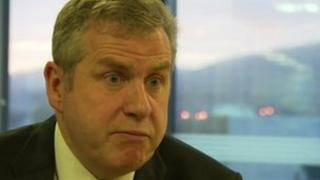 Inspectors have said they are disappointed the Forensic Science Service has not done more to address delays in producing reports used as evidence in court cases.
In 2009, a Criminal Justice Inspection (CJI) report made 12 recommendations for improvement, but five years on, only five have been achieved.
The service produces around 9,000 reports on 6,000 cases a year.
These are based on an analysis of 20,000 exhibits.
The CJI report said the quality of scientific testing was good, and had been externally accredited.
But it said this had been undermined by backlogs and delays in the production of reports interpreting the results of the tests.
"We are disappointed that the timeliness of reports, managing customer relationships and performance improvement still represent significant challenges for the future," said chief inspector Brendan McGuigan.
'Avoidable delays'
James Corrigan, now CJI's deputy chief inspector, was involved in drawing up the report in 2009, and led this follow-up inspection.
"Unfortunately there are still continued avoidable delays, we found that in 2009, and that is still the case today," he said.
This latest report notes that feedback from customers, particularly the PSNI, demonstrates a high level of satisfaction with the Forensic Science Service on priority cases.
However, it said "considerable work" was still required to tackle the issue of delay.
The issue of delay was highlighted by a High Court judge on two occasions last year.
In July, Mr Justice Weir criticised what he called "enormous delays" over forensic testing and questioned why politicians had not intervened.
He added: "The amount of time taken up in investigation, putting together simple cases is, I think, nothing short of a disgrace."
In December last year, the same judge said the forensic science service (FSNI) was being operated on a "shoestring budget", and that test delays were "unacceptable".
The criticisms were rejected by Justice Minister David Ford.
'Frustration'
Mr Corrigan said some of the criticism was justified, but said that he believed part of the responsibility for the delays lay with the police, and not the forensic scientists.
The CJI report refers to a "widely held frustration" within the Forensic Science Service about such criticism, and said part of the problem was a lack of information provided to the courts about delays in exhibits being submitted by the police, what is referred to as "the pre-submission period".
Inspectors said analysis of the cases referred to by Mr Justice Weir "showed that significant delays had occurred at the pre-submission stage of cases when the police sometimes hold back a case until further investigation has been done or have anticipated a guilty plea in court."
The report said delays could be reduced if there was a more "joined-up approach" to forensic evidence.
At present, crime scene investigators working for the police gather evidence and store it, and it is then sent to the Forensic Science Service for testing and analysis.
Inspectors said this often results in duplication of effort, as well as delays in the process, and would like to see a new single forensic service, as is the case in Scotland.
"What we want to see is a seamless, joined-up service from crime scene to court," said Mr Corrigan.
"That would produce consistent standards from when the exhibits are collected at the scene to when the report is produced and presented in the court."
The inspectors did not address Mr Justice Weir's claim that the service was operated on a "shoestring budget", but said around £20m was spent on forensic services in Northern Ireland each year.
Forensic Science Northern Ireland (FSNI) employs more than 220 staff, over 160 of whom are scientists.
They also point out that the Department of justice has committed a £15m capital budget towards the development of a new laboratory.
Responding to the report, Mr Ford said an action plan had been developed to address the issues identified by the inspectors, and that progress will be monitored closely.
He added: "In particular, work is ongoing to develop a forensic services strategy that will support the delivery of good quality, timely, cost effective and sustainable forensic services."