Peter Robinson: 'I support Edwin' over handling of Royal problems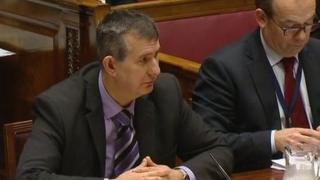 Northern Ireland's first minister has indicated his support for the health minister over his handling of problems at a Belfast hospital.
Edwin Poots said Northern Ireland hospitals were "performing safely" and denied there was a crisis.
It has emerged five patients at the Royal Victoria Hospital's A&E may have died partly because they were not treated quickly enough.
Mr Robinson said Mr Poots had a "very difficult task".
"I very much support Edwin", he said.
"I also see his absolute determination to get to the bottom of these issues.
"I make this very clear, if Edwin comes to the executive on the basis of advice from professionals within his department and indicates that the issue is about finance, then my hand will go up to give him whatever support he requires."
Stormont's health committee earlier heard that three of the families involved had not been fully informed of all the details of the deaths.
It also heard that in four cases contact had been made with the coroner.
Dr Michael McBride, the chief medical officer, said three of the five "serious adverse incidents" at the Royal Victoria Hospital were still undergoing investigation, and one of those was subject to independent review.
Mr Poots told the committee that A&E departments in Northern Ireland performed better, and that mortality rates were better, than those in England.
He said: "We should stop damning our emergency departments because they respond very very well to people and they provide excellent care to people.
'Better outcomes'
"Waiting times may be longer than in England but patient outcomes are better.
"It may well be that our staff and our emergency departments and our hospitals are actually carrying out their work more thoroughly, which may deliver poorer waiting times but deliver better outcomes.
"We have better outcomes than the average across all of the English hospitals in our hospitals here in Northern Ireland.
"That's the important message... that we actually have lower mortality rates than the English hospitals.
"That is a very very important message that the public need to hear, hospitals in Northern Ireland are performing safely."
Mr Poots also said that a third A&E department in Belfast would not alleviate any problems.
He said: "The problem that we had with having three hospitals in the space of two, two and a half miles of each other was that we had clinicians spread over three sites.
"If you want to get people dealt with efficiently and you also want to give them the best possible treatment, you want your junior doctors working on the same site as the senior consultants so that whenever they need assistance, whenever they need advice, whenever they need help, whenever they actually need the consultant to see a person, it's available to them.
"If you don't have the requisite number of doctors and clinicians you will only compound the problem."