Giro d'Italia: Mark H Durkan considers election poster blanket ban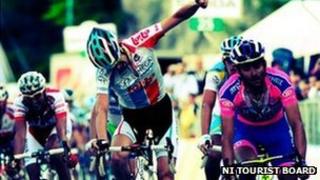 Environment Minister Mark H Durkan has said he is considering an outright ban on election posters - not just during the Giro d'Italia cycle race in May.
Mr Durkan said a ban on posters for the three days of the Giro could used as a "trial for an outright ban".
He said he been considering reviewing the legislation before the controversy arose over posters on the Giro route.
Mr Durkan said it was due to their impact on the environment.
In an interview for the Talkback programme on BBC Radio Ulster, he said: "As part of that review, I will be examining a range of options including an outright ban."
The environment minister said the review would not take place before the Giro in mid-May, but could occur before the forthcoming Westminster and Northern Ireland Assembly elections.
Although he is reserving the right to ban election posters during the Giro, he has written to all the political parties asking them to consider a voluntary agreement not to put up any posters along the cycle route.