Starsky and Hutch star Paul Michael Glaser in Belfast role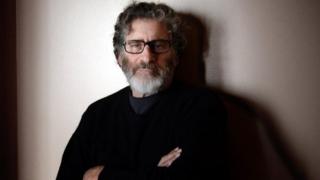 Come in Zebra 3, one of the icons of 1970s TV is in Belfast as the star of Fiddler on the Roof.
Paul Michael Glaser, best known as Starsky from cop series Starsky and Hutch, is appearing at the Grand Opera House all week in the musical set in Tsarist Russia in 1905.
He plays the lead role of Tevye in the musical directed and choreographed by Strictly Come Dancing judge Craig Revel Horwood.
While Glaser told BBC Northern Ireland the role represented the pinnacle of his career, he accepted he would always be best known for his role as Detective Starsky.
"I've come to accept the very gracious and generous response from the public and I'm fine with it," he said.
"Now I'm at an age where I just say whatever comes each day is delightful and people seem to really appreciate Starsky and what I did on that show, so that's a nice thing."
'Can't do a split'
Now 70, Glaser said the all-action role of Tevye represented a challenge, but one he had fully embraced.
"It's not bad, I have to be realistic about it - I can't do a split or things like that, but it's OK," he said.
"The role itself is pretty good exercise, I'm on stage probably 85 or 90% of the time."
One of the few things Starsky did not do while patrolling the streets of Los Angeles was break into song and Glaser admitted the thought of singing on stage every night was initially frightening.
"I didn't sing much at all. I often tell the joke that when I was at college my friends would flush the toilet when I sang in the shower - it uses up the cold water and you get scalded," he said.
'If it scares me I'll do it'
"But about seven years ago I was offered panto and it was Captain Hook in Peter Pan and I thought wow it's a role I've always wanted to play, I had a great time doing it and I get to sing, let's see if I can do this.
"I've always been one of those people that, if something scares me, I'll do it. So I did it and the following season I did the panto of Aladdin and I did it again.
"When Fiddler was offered to me I didn't know how well I could do it, but I knew I wanted to try. So now I'm singing and dancing and having a great time.
"I don't know how I'm ever going to top this, I sometimes think of it as the top of my career as an actor, because a role like this doesn't come round very often, it's so multi-faceted and multi-layered and he's such an everyman."
While he said he would like the opportunity to get out and see Northern Ireland while here, Glaser said the hectic schedule made this difficult.
"The most I get to do is get to look at the very beautiful Irish women," he said.