Nelson Mandela death: Sinn Féin request to name room at Stormont rebuffed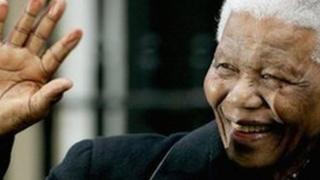 A Sinn Féin request to name a room at Stormont after the late South African leader Nelson Mandela has been rebuffed.
The cross-party Assembly Commission, responsible for Parliament Buildings, decided the proposal should be considered as part of a wider policy.
The request was made by Sinn Féin MLA Oliver McMullan.
The commission met on 12 December, one week after the death of the late South African leader.
It was noted at the meeting that the commission had previously agreed to develop a draft policy to deal with a request of this nature.
But Sinn Féin member Caitriona Ruane suggested the request could be dealt with before the policy was written.
A vote was taken in which Ms Ruane was backed by the Alliance member Judith Cochrane.
But they were outvoted by the two unionist members, Peter Weir of the DUP and Leslie Cree UUP.
The SDLP member was not present.
In a separate development, the commission is considering how to honour local literary icons, CS Lewis and Seamus Heaney.