Bandsman Thomas Beresford wins jail term appeal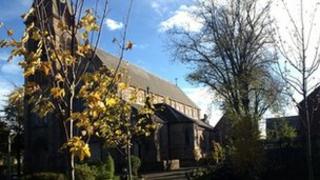 A member of a marching band has won an appeal against being jailed for playing the traditional loyalist song, The Sash, outside a Catholic church.
Thomas Beresford's three-month prison sentence was reduced to a one-year conditional discharge.
A judge ruled that a prison sentence had been too severe.
Beresford, 21, of Strathearn Court, Holywood, County Down, was convicted of breaching a ban on playing non-sacred music during part of a Belfast parade.
He was identified in footage of Holywood True Blues marching past St Matthew's Church on the Newtownards Road in east Belfast on 29 September, 2012.
Another band member, Stephen Walker, 28, of Church Green, Holywood, was also convicted of defying the Parades Commission determination.
He received a three-month suspended jail term for the offence.
Beresford claimed he had not seen flashing warning signs on the prohibited section of the parade as he played with his head "buried" forward.
But a judge held that footage of the parade showed him "enthusiastically playing the bass drum, gesturing to the crowd and looking straight ahead of him".
The decision last December to sentence Beresford to three months in jail provoked an outcry among some unionists.
DUP assembly member Nelson McCausland described it as "draconian".
Beresford, who was on bail pending the outcome of his appeal, attended Belfast County Court for the hearing.
His legal team abandoned a planned bid to have his conviction overturned.
But challenging the sentence, his barrister said that it was excessive and unnecessary.
The judge said Beresford had a clear record and ruled that he should instead be given a 12-month conditional discharge. She said imposing custody had been too severe in the circumstances.