MLA warns delays on opt-out organ donation decision putting lives at risk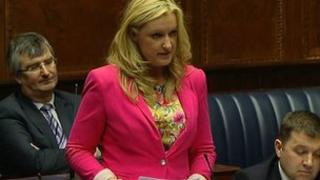 The health minister has been accused of risking people's lives by delaying a decision on organ donation.
Edwin Poots told the Northern Ireland Assembly he would be better placed to decide the way forward in Northern Ireland after more public consultation.
The Ulster Unionist MLA Joanne Dobson, who is attempting to change the law, criticised the move.
She is proposing that organs be automatically donated unless an individual has opted out.
Mrs Dobson said the legislation she was proposing would mean families would still have to be consulted.
She told the minister: "You can survey an issue to death, meanwhile people will continue to die."
Mrs Dobson, whose son underwent a transplant operation, urged the minister for a commitment that he would bring forward legislation supporting the "soft opt-out" system before the end of this assembly.
But Mr Poots, who said he was not against 'soft opt out', said he still need more evidence and it was very important to educate the public on the issue.
His DUP party colleague Alistair Ross has brought forward his own bill that would allow people to "opt-in" by signing their driving licences.
Mr Poots told the assembly the Public Health Agency would begin a public information campaign on Wednesday aimed at encouraging people to let their family know if they wish to donate their organs at the end of their life.
The aim is to increase public awareness and the number of donors.
The results of an earlier survey, he claimed, were confusing.