Firefighter Nial Hamilton dies suddenly after tackling car fire in Lurgan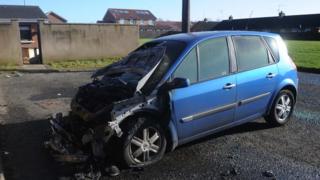 A firefighter has died suddenly after he collapsed at the scene of a fire in Lurgan, County Armagh.
Nial Hamilton was among firefighters called to deal with a burning car at Deeny Drive in the Kilwilkie estate shortly after 21:30 GMT on Monday.
They brought the blaze under control within 11 minutes, but shortly afterwards, the Mr Hamilton collapsed.
The 44-year-old was given first aid at the scene before he was taken to hospital, where he was pronounced dead.
The firefighter had been on duty with colleagues from Lurgan Fire Station.
The BBC's reporter in the area, Gordon Adair, said it is understood that the firefighter was found lying beside the fire appliance, where he had gone to check and store breathing apparatus that he had used in the operation.
Northern Ireland's chief fire officer, Chris Kerr, said he was announcing the death of his colleague with "deep regret".
"Today is an extremely sad day for NIFRS and our wider fire service family as we mourn the sudden and untimely death of our much respected colleague firefighter Nial Hamilton who died while on operational duty last night," he said.
"Our thoughts are very much with Nial's wife Ruth and their two young sons, Alex and Rory, at this difficult time."
Mr Kerr said the circumstances of Mr Hamilton's death were currently under investigation and a post mortem examination was being carried out to determine the cause of his death.
Mr Hamilton joined what was then known as the Northern Ireland Fire Brigade in September 1990 serving initially in Cadogan and Knock Fire Stations in Belfast before moving to Lurgan Fire Station.
The NIFRS flag is being flown at half-mast at all NIFRS premises as a mark of respect.
A minute's silence was held at NIFRS headquarters at 11:00 GMT on Tuesday.