Belfast defibrillators for Singapore army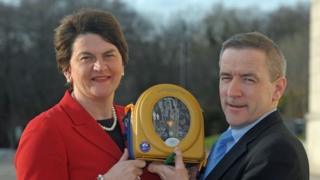 A piece of Belfast technology is going into army camps across Singapore as part of a major order for a health firm.
HeartSine is to supply 2,000 automated external defibrillators to the the island's defence ministry.
It is part of a deal announced during a joint UK and Ireland trade visit. The firm's defibrillators will be installed in every army camp in Singapore.
HeartSine already exports its products to 44 countries.
Northern Ireland's Enterprise, Trade and Investment Minister Arlene Foster, who is in Singapore, said: "This Belfast-based company has a superb track record in international markets and currently exports to 44 countries, with operating systems in more than 29 languages."
The HeartSine device was designed as a quick and effective response to sudden cardiac arrest (SCA) which occurs without warning.